Want a New York hotel near a Christmas market, a vegan restaurant, or another attraction? Look no further than artificial intelligence from Google at Priceline as early as this summer, the companies told Reuters.
According to Martin Brodbeck, chief technology officer of Priceline, the online travel agency, which is a subsidiary of Booking Holdings, plans to provide a more advanced chatbot for trip planning as well as hotel recommendations that are "personal concierge"-style and customised to consumers.
"You can easily find out that in Bryant Park there's a Christmas market that runs from early November all the way through the beginning of January when you're actually booking your hotel," he said.
Priceline now has access to generative AI through new capabilities from Google's cloud division, including the technology behind ChatGPT, which can draught language as if it were written by a person.
To assure accuracy, the programmes also extract data such as hotel rates from the previously collected information.
Google has long been the distant No. 3 provider of cloud services like data storage, so using AI to attract customers might help it catch up to competitors Amazon and Microsoft.
The use of cutting-edge technology on Priceline's website would give it an advantage over other travel-related marketplaces, some of which are investigating how customers will respond to AI.
Expedia Group, a competitor company, claimed that a smartphone app will use ChatGPT to power talks.
According to Rathi Murthy, its chief technology officer, this provides travellers with "inspiration on places to go" and booking possibilities.
Expedia and Kayak, a different Booking Holdings website, have incorporated their travel advice via elements in the independent ChatGPT programme as well.
Although Brodbeck said that Google's cloud computing powers were what sparked the agreement, Google itself has long been seen as a rival to Priceline.
According to Thomas Kurian, CEO of Google Cloud, the ability to develop apps on top of generative AI, which Google pioneered, has attracted recent business.
"There is a kind of a Cambrian moment happening now where there's an explosion of this technology," Kurian told Reuters, referring to the extraordinary prehistoric period when a wide array of new species emerged.
He declined to comment on how Google Cloud's revenue was being impacted by free corporate previews.
According to Brodbeck, hundreds of software developers at Priceline will receive code recommendations from Google's AI.
In order to improve employee intranet search, Priceline will use Google's search features. Additionally, Google's AI will expedite promotion for popular locations.
"You could have it create images like a beautiful beach, and you could marry that with great generative AI copy," Brodbeck said.
Image Source: Bing AI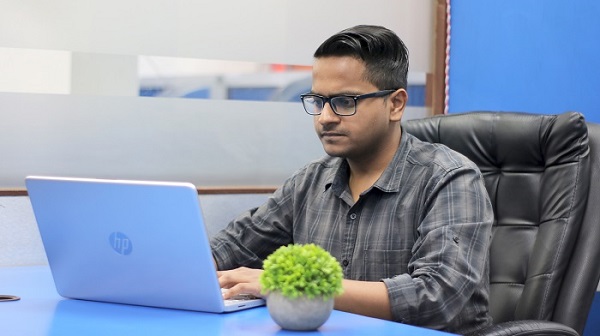 Hi! I am Kartik Rohtela. I am extremely good at one thing, which is creating high-quality, engaging content that resonates with audiences. Being in love with content writing, I have a keen eye for detail and talent. I have a proven track record of success in creating content that informs, educates, and inspires.
Whether developing a content strategy or creating engaging pieces, I bring my creativity and dedication to every project at Unboxfame. With my passion for content and commitment to delivering exceptional work, I do what it takes to keep the readers till the end.