All company identities must contain a logo, and the field of logo design is ever-evolving. As 2023 approaches, new logo design fads, and styles that will affect how businesses present themselves to their customers are beginning to emerge. The greatest logo design trends for 2023 will be discussed in this article, along with how they may help a business stand out in a congested market.
Here are the Top 8 Trends in Logo Design
1. Minimalism
The minimalist aesthetic has gained popularity in recent years and will continue to do so in 2023. Minimalist designs that are clean, concise, and uncomplicated are instantly recognizable and memorable. When companies adopt minimalist designs, they can convey their brand identity with just a few lines, shapes, or colors. In 2023, more businesses are probably going to choose minimalism while designing their logos.
2. Changing Colors
Gradient colors are a popular trend that has recently gained momentum and is anticipated to gain even more popularity in 2023. A subtle but significant influence on logo design is provided by gradient colors, which mix two or more hues to create a distinctive, eye-catching design. Gradient colors work well with both straightforward and complex designs, and they are a great way to give your logo depth and volume.
3. Handwritten Fonts
In 2023, more businesses are probably going to adopt handwritten typefaces in their logo designs. A logo becomes more memorable and distinctive by using handwritten typefaces. By adopting handwritten typefaces, businesses can convey an air of creativity, honesty, and approachability. A wide spectrum of design sensibilities, from simple to elaborate, are complemented with handmade typefaces.
4. Poster mockups
It's critical to present your designs in a clean and captivating way since logo design is an essential element of identity. Mockups of posters are useful in this circumstance. Using a poster mockup, you can display your brand in a genuine setting and see how it would look in the real world. This might help you make any necessary revisions to your idea before it is complete. Also, adding poster mockups to your branding materials can improve the level of creativity and skill of your design.
5. Geometric shapes
A traditional element of symbol design that is anticipated to remain popular in 2023 is geometric forms. When geometric elements are included in a logo, it becomes more aesthetically pleasing and memorable because it gives the brand a sense of structure and harmony. Geometric shapes can help businesses convey a sense of professionalism, accuracy, and security. In 2023, more businesses will probably incorporate geometric shapes in their logo designs, particularly when paired with other design elements.
6. Negative Space
"Negative space" is the use of space around and between design elements to create a secondary picture or message. Negative space can be utilized to convey a covert message, give a design dimension and personality, or create an optical illusion. In 2023, more businesses will probably use negative space to make distinctive and aesthetically beautiful logos.
7. Animated logos
As businesses strive to create more vibrant and intriguing brand identities, animated logos have been more and more popular recently. Moving logos will probably be used by more businesses in 2023, particularly in digital environments. Animated logos can be used to tell a story or convey a message while also adding a playful element to brand identification.
8. Line Art
In line painting, straightforward lines are employed to create aesthetically pleasing designs. In 2023, more businesses are anticipated to include line art in their logo designs, particularly when mixed with other design elements like gradient hues, negative space, or handwritten typefaces. The versatile design method known as line art can be used to convey a range of emotions, from fun to refinement.
In conclusion, logo design is a component of identification that is continuously evolving, requiring businesses to stay current with the newest styles and trends. Use simplicity, gradient colors, handwritten typefaces, geometric shapes, negative space, animated logos, and line art in business logos in 2023. By incorporating these trends into their operations, businesses can create distinctive brands.
Source: Top Trends in Logo Design for 2023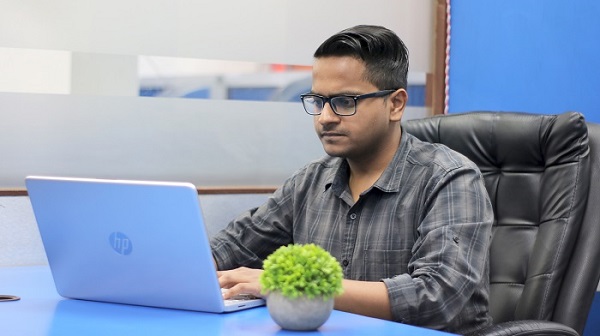 Hi! I am Kartik Rohtela. I am extremely good at one thing, which is creating high-quality, engaging content that resonates with audiences. Being in love with content writing, I have a keen eye for detail and talent. I have a proven track record of success in creating content that informs, educates, and inspires.
Whether developing a content strategy or creating engaging pieces, I bring my creativity and dedication to every project at Unboxfame. With my passion for content and commitment to delivering exceptional work, I do what it takes to keep the readers till the end.