In a thought-provoking statement, Union Minister Dharmendra Pradhan recently ignited a debate on the contrasting realms of AI (Artificial Intelligence) and HI (Human Intelligence).
Pradhan's remarks have sparked intense discussions regarding the role of these two forms of intelligence in various sectors, including technology, education, and employment.
During a recent public address, Pradhan emphasized the importance of embracing AI while acknowledging the significance of human intelligence.
He stated that AI has become integral to our lives, revolutionizing industries and enhancing efficiency. However, he also highlighted the irreplaceable value of human intelligence, which encompasses emotions, empathy, and creativity.
Pradhan's viewpoint suggests that harmoniously integrating AI and HI can lead to groundbreaking advancements.
While AI excels in tasks requiring speed, accuracy, and data processing capabilities, human intelligence brings qualities such as critical thinking, problem-solving, and emotional understanding.
By leveraging both strengths, society can achieve a comprehensive approach to decision-making and problem-solving.
The debate sparked by Pradhan's statement revolves around the potential implications of increased reliance on AI.
Supporters argue that AI can optimize processes, automate mundane tasks, and unlock new possibilities for innovation.
They believe that AI's ability to process vast amounts of data quickly and identify patterns can significantly enhance productivity and efficiency across sectors.
However, critics express concerns about the potential impact of AI on human employment and autonomy.
They fear that an over-reliance on AI may lead to job displacement, widening the gap between the technologically skilled and the economically disadvantaged.
Moreover, ethical considerations surrounding AI, such as privacy, bias, and accountability, fuel the ongoing discussion.
Pradhan's call for a balanced approach encourages policymakers, researchers, and industry leaders to explore avenues where AI can augment human intelligence rather than replace it.
This involves harnessing AI's potential to assist in complex decision-making processes, amplify human capabilities, and improve the overall quality of life.
As the debate between AI and HI continues, it is essential to consider each intelligence form's potential benefits and drawbacks.
Embracing AI's transformative potential while safeguarding human values and well-being remains a critical challenge for policymakers and society.
In conclusion, Union Minister Dharmendra Pradhan's remarks on the debate between AI and HI have sparked a meaningful conversation about the role of these two forms of intelligence in our rapidly evolving world.
Finding the right balance between AI and HI is crucial for leveraging their respective strengths and ensuring a future that combines technological advancement with human values.
Image Source: indiaai.gov.in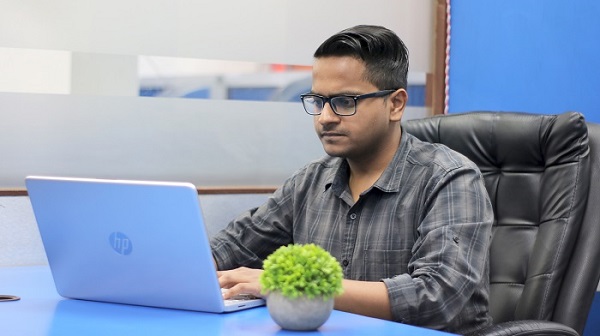 Hi! I am Kartik Rohtela. I am extremely good at one thing, which is creating high-quality, engaging content that resonates with audiences. Being in love with content writing, I have a keen eye for detail and talent. I have a proven track record of success in creating content that informs, educates, and inspires.
Whether developing a content strategy or creating engaging pieces, I bring my creativity and dedication to every project at Unboxfame. With my passion for content and commitment to delivering exceptional work, I do what it takes to keep the readers till the end.