The few letters that make up your domain (extension) can reveal a lot about your website to visitors, and a domain name directs people to it. Your domain name reflects you, whether you're a hobby blogger, a small business owner, or an employee of a major firm. The success of your website address may depend on selecting a domain extension that is appropriate for both its identity and function. This Domain Endings blog covers the significance of popular domain extensions, the variations among common extensions, and how to pick the ideal one for your new Business website.
What Domain Extension Should I Use?
Although there are many available domain extensions, it is advisable to use caution when deciding the best new domain extensions for your website. When choosing the ideal domain extension and what domain extensions are available & what Domain endings are not available, keep the following things in mind.
1. Branding of Your Business: –
Your domain directs all traffic to the website that represents your brand. Your domain name is thus an extension of your website and must be considered as a whole. You'll need to use some human psychology for this phase. A memorable domain extension might help your domain name stick in people's minds.
People will see your domain name via a search engine or social media when they arrive at your website. Unlike your name .XYZ, a domain like yourname.com seems more reliable. Why? Because .com is the most well-known domain on the internet and is, therefore, more familiar to us than .XYZ, which is not used nearly as frequently. After years of internet use, .com, domains are perceived as being more recognizable, reliable, and aesthetically beautiful.
Similar principles apply to some other global domain extensions, such as.org and.net. When putting the branding aspect first, using one of the more popular domain extensions is usually the best course of action.
2. Role of Location: –
The domain extension you select may be influenced by your firm's location, particularly if your target market is nearby. If customers are inclined to look for a business like yours in your region when searching for you online.
3. SEO:-
According to Google, having an uncommon or less popular domain extension won't have an impact on the SEO of your website. Your domain extension does not directly affect where your website appears in Google's search result.
4. How to Use the Website: –
Another crucial aspect to take into account when deciding what domain extension to utilize is the purpose of your website — personal, educational, commercial, etc. For example, most non-profit organizations opt for .org because it gives them a recognizable credibility factor while still setting themselves apart from education and government agencies.
If you run an internet business, you might choose a .co or .biz domain name because they are both recognized as being used for businesses. Informational websites, such as research or tutorial sites, may opt for the .info extension to clearly state their intended audience before they even click on the domain name.
5. Keep the Price in Mind: –
Domain registrars charge various prices for extensions. The present trendiness of the wing, the usual buyer of the domain, and the extension's age are all elements that impact pricing. Due to the frequent snatching up of extensions like.io, .ia, & .tech by tech companies, they are frequently more expensive than.com or.net. Similar to .com, .inc is one of the most expensive since incorporated businesses are more likely to purchase it. The oldest domains will typically cost less, but the number of available domain names will also be more constrained.
Read Also: How to Purchase a Domain Name for a Website?
What Are Valid Domain Extensions & List of Popular Domain Extensions in 2023?
The following valid 38 all domain name extensions are some of the best domain extensions ranked in Google. Here, we contrast their most popular applications and discuss when choosing a different extension might be a better option. So let's start with this 38 domain extensions list: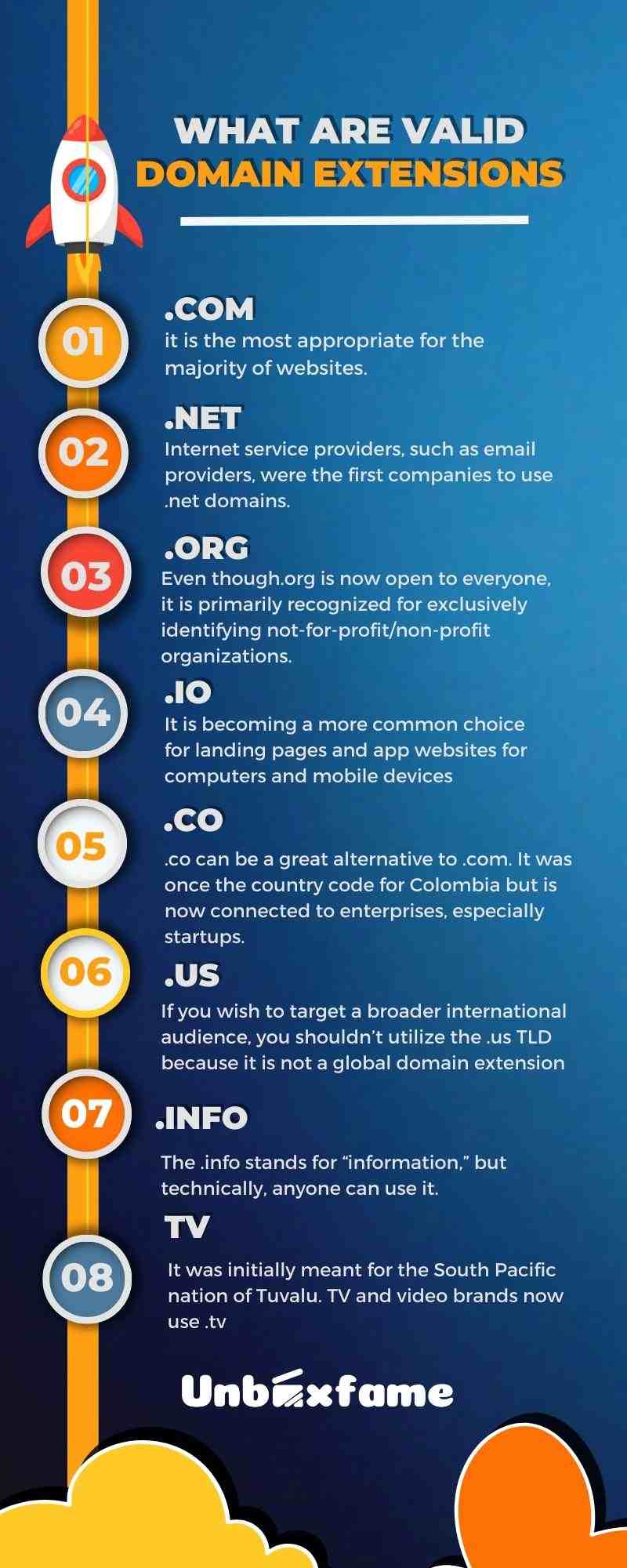 List Of 38 Best Domain Name Extensions according to their Popularity in 2023
1. .Com:-
Since .com extension is the most well-known and most popular & valid domain extensions of all domain extensions, it is the most appropriate for most websites. Technically, it denotes "commercial," which describes the majority of websites on the internet. Since.com domains are the most popular, and its domain popularity is so immense, there's a chance that the one you desire won't be available.
Therefore, to make your domain research distinctive, you might think about using a different extension or including an additional word. Yourbusiness.com, for instance, might change to yourbusinessnewyork.com.
2. .Net:-
Internet service providers, such as email providers, were the first companies to use .net domains. Website owners went into .net territory as more .com addresses were taken.
When the internet first became widely used in the 1990s, the extension was more prevalent. Despite this, it continues to be one of the most popular web extensions, second only to some ccTLDs like.ru and .in. Networking sites and online communities still find it helpful to indicate their aim as internet-based "networks."
3. .Org:-
Even though.org is now open to everyone, it is primarily recognized for exclusively identifying not-for-profit/non-profit organizations. Many still hold that perspective. Any website won't function well with this TLD. NPOs, political parties, elected officials, and online communities benefit most from it instead. Although.org suggests a high-quality website with reputable content, it's not typically affiliated with commercial brands, so users shouldn't anticipate making purchases.
4. .Io:-
It is becoming a more common choice for landing pages and app websites for computers and mobile devices—moreover, tech-related websites favor.io, particularly tech startups. It is also one of the best domain extensions for startups. If you have a domain name like portfol.io or stud.io that fits your business name, this extension is also one of the most entertaining to experiment with.
Even though.io is growing more well-known among individuals who work in the IT and gaming sectors, those outside of those fields might not think it is a reliable brand. Also, since many.io domains are now based on other languages, public support for the extension could dwindle.
5. .Co:-
What domain extension should I use if .com is occupied? More than any other extension on this list, the .co can be a great alternative to .com. It was once the country code for Colombia but is now connected to enterprises, especially startups. .co is the cool new kid (or the not-new kid who got a makeover and became cool after), beloved by entrepreneurs and enterprises of all kinds. It resembles a younger, more modern version of.com. In addition to being brief and even trendy, .co is also more accessible than .com.
Now that you know this remembers that .co is less recognizable than.com and that if your principal domain already has a.com TLD, people will go there even if they mean to visit your site. That's a compelling argument to purchase both domains and point the .com to the .io.
6. .Us:-
If you wish to target a broader international audience, you shouldn't utilize the .us TLD because it is not a global domain extension and is only available to users in the United States. You can use this TLD as long as you're a person, company, or NGO with residence in the United States and operations there. But bear this in mind: .us was formerly reserved for usage by government websites, but it is now open to the general public. It works best for websites with an American or patriotic theme, but it still has that governmental vibe.
7. .Info:-
The .info stands for "information," but technically, anyone can use it. Despite this, it works best for websites that provide informational resources, such as tourist information for a region or staff resources in an enterprise. Moreover, it is the first domain to offer internationalized domain names and the first to employ more than simply three letters (IDNs).
You should use this addon only if you can maintain the expectation that your website contains valuable information. Otherwise, you risk turning away potential customers.
8. .Tv:-
Here is another TLD that was once a country code but is now utilized more broadly and without regard to a specific geographic area. It was initially meant for the South Pacific nation of Tuvalu. TV and video brands now use .tv.
9. .Inc:-
As an alternative to the relatively oversaturated .com,.net, and.org domain extensions, the .inc extension has grown in popularity. Although it is one of the best new domain extensions available, incorporated firms typically pick this extension.
10. .Biz:-
Although .biz names assist commercial websites in clearly stating their intended audience, they are still not as instantly identifiable as.com and.org domains. Sadly, the extension has been cluttered with scams and unorganized websites, making it appear less reliable than certain others to visitors.
Also Visit – AI Business Name Generator
11. .App
A clear and distinctive choice for your website's domain extension is .app. It denotes a platform that focuses on software or applications and indicates your online presence. The secure and cutting-edge domain extension .app is ideal for exhibiting your creative and interactive online apps.
12. .Gov
With a .gov domain extension, you can build credibility and confidence for your website. Showcase resources, services, and information that the government provides. A .gov domain, which stands for legitimacy and dependability, can help you win the public's trust and prove your authority.
13. .Me
With a .me domain extension, you can capture your own online identity and gain domain popularity. Perfect for blogs, portfolios, personal websites, and creative endeavors. With a memorable .me domain that reflects your personality and personal brand, stand out and convey your uniqueness.
14. .Academy
Use a .academy domain extension to establish your educational organization or online learning platform. Present your knowledge, programs, and resources to students worldwide. You'll gain a reputation and draw enthusiastic students to advance their knowledge and abilities with a .academy domain.
15. .Bar
Whether you own a bar, pub, or brewery, the .bar domain extension is perfect for establishing an online presence. Stand out in the beverage industry, promote events, and share your drink offerings with customers looking for a unique and enjoyable bar experience.
16. .Blog
You may set up a special place to express your ideas, knowledge, and opinions by registering a domain with the .blog extension. A .blog domain is an ideal foundation for your online presence, whether you're an enthusiastic writer, a professional blogger, or a company wishing to connect with your audience.
17. .Consulting
The .consulting domain extension is ideal for professionals and businesses offering expert advice and services. Establish credibility and attract clients with a memorable and descriptive domain that communicates your consulting expertise and highlights your industry-specific knowledge and solutions.
18. .News
For people, businesses, and media organizations wishing to offer current and dependable news material, the .news domain extension is ideal. With a domain name that reflects your commitment to providing your audience with current and pertinent information, you can stand out in the crowded field of digital news.
19. .Edu
The .edu domain extension is reserved for educational institutions, showcasing their credibility and expertise in education. It provides a trusted platform for universities, colleges, and other educational organizations to establish their online presence and offer valuable resources and information to students and learners worldwide.
20. .Tv
Websites devoted to television, broadcasting, and video material frequently use the .tv domain extension as their domain name extension. It gives media firms, streaming services, entertainment platforms, and anybody involved with producing and delivering audiovisual material a distinctive and memorable online presence.
21. .Xyz
Any website may benefit from the adaptability and creativity of the. xyz domain extension. It stands for innovation, individuality, and a contemporary strategy for online presence. .xyz gives your web address a unique flair, whether for a personal blog, a new company, or a creative endeavor.
22. .Mil
The .mil domain extension is exclusively reserved for the United States military. It signifies a secure and official online presence for military organizations, departments, and institutions. With .mil, you can showcase your military identity and connect with fellow members and the public in a trusted digital space.
23. .shop
Businesses that do online sales should use the .shop domain extension. You may construct a distinctive and evocative website address with .shop that expresses your e-commerce emphasis immediately. With a.shop domain, you may stand out in the online marketplace and draw in clients who are eager to buy.
24. .Fm
The perfect domain extension for people, groups, and companies involved in music, radio, or broadcasting is .fm. With .fm, you can establish a distinctive online identity that appeals to a broad audience and demonstrates your love of audio material.
25. .int
International organizations and companies connected to treaties are only permitted to use the.int domain extension. It represents legitimacy, dominance, and international cooperation. You may create a credible online identity with a.int domain that highlights your company's global reach and encourages international cooperation. Use .int to become a part of the world community.
26. .Tech
The .tech domain extension is ideal for exhibiting innovative thinking and technological prowess. It is a current and sector-specific option for enterprises, entrepreneurs, and professionals interested in technology. With a .tech domain, you may create an online identity and show you are dedicated to the technological community.
27. .live
The .live domain extension is an ideal choice for live streaming, events, performances, and interactive experiences. With a .live domain, you can create an engaging and dynamic online presence that connects with your audience in real time.
28. .World
You may present your global outlook and interact with a global audience using the .world domain. A.world domain establishes your presence and emphasizes your dedication to having a beneficial influence worldwide, whether you're a travel blogger, an international organization, or an advocate for global problems.
29. .Pro
The .pro domain extension is the perfect choice for professionals across various industries. It signifies expertise, credibility, and professionalism. Whether you're a lawyer, consultant, or creative professional, a .pro domain instantly conveys your professional standing and helps you stand out in the digital landscape.
30. .social
For people, organizations, and communities wishing to connect, interact, and share their interests and projects, the .social domain extension is the best option. You may establish a lively online presence and encourage deep connections among your target market with a .social domain.
31. .studio
The .studio domain extension is perfect for creative professionals, artists, photographers, and designers who want to showcase their work and services in a professional online studio. With a .studio domain, you can establish your unique brand identity and attract clients to explore your creative portfolio.
32. .Cloud
For companies and people in the tech sector who wish to highlight their cloud-based services, solutions, and innovations, the .cloud domain extension is perfect. You may position yourself as a dependable supplier of cutting-edge cloud technologies and draw in tech-savvy clients with a .cloud domain.
33. .Agency
The .agency domain extension is perfect for creative agencies, marketing firms, talent agencies, and any business that offers professional services. With a .agency domain, you can showcase your expertise, professionalism, and ability to deliver top-notch solutions.
34. .Media
For media organizations, content producers, journalists, and anybody else working in the media and communications industry, the .media domain extension is suitable. A .media domain allows you to create an online identity and present your multimedia material to a worldwide audience, making it a potent instrument for disseminating news, entertainment, and knowledge.
35. .Digital
The .digital domain extension is perfect for businesses, agencies, and individuals in the digital realm. It signifies your digital expertise and presence, making it an excellent choice for digital marketing, technology, software, and other digital-focused industries.
36. .Network
Organizations, communities, and companies that thrive on linking people and resources should use the .network domain extension. It stands for teamwork, communication, and creating networks. A.network domain aids in developing a robust online presence regardless of whether you work in the IT sector, social services, or other areas.
37. .Games
The .games domain extension is perfect for individuals, companies, and communities involved in the gaming industry. Whether you create games, provide gaming services, or run gaming communities, a .games domain instantly communicates your focus and passion for gaming, helping you stand out in the competitive gaming landscape.
38. .Gift
The .gift domain extension is the best option for organizations and people in the giving sector. Whether you provide one-of-a-kind presents, personalized products, or gift-related services, a .gift domain immediately communicates your expertise and facilitates clients' search for the ideal gift.
Read Also: 10 Things to Know Before Buying a Domain
Discover the best domain extension for your business from the list of domain extensions 2023 from above and choose the perfect one to elevate your online presence.
Which New Domain Ending Is Best in 2023: Is. Com Still the King?
For most websites and the list of domain extensions, the best option for a domain extension is still.com. It is well-known, has long since gained people's trust, and is easy for them to remember. Although many haven't, it doesn't mean other more recent extensions can't get there.
If your company's core is innovation, you could feel more at ease choosing a different extension like .io or .icu that is a little trendier and exciting. For instance, technology and forward-thinking businesses can use these domains to highlight their distinctiveness.
Most essential, your extension needs to be in line with your goal. Sticking with.com or .co can make more sense for your objective than choosing a .info domain for an e-commerce company, which would just confuse potential customers. Finding a domain that you enjoy and that also makes it apparent to visitors what to expect when they visit your site should be your ultimate goal. For more information, feel free to contact Unboxfame.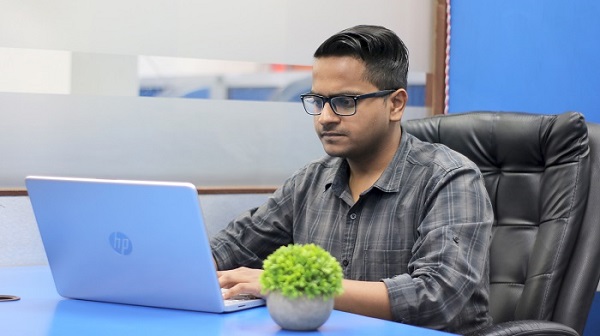 Hi! I am Kartik Rohtela. I am extremely good at one thing, which is creating high-quality, engaging content that resonates with audiences. Being in love with content writing, I have a keen eye for detail and talent. I have a proven track record of success in creating content that informs, educates, and inspires.
Whether developing a content strategy or creating engaging pieces, I bring my creativity and dedication to every project at Unboxfame. With my passion for content and commitment to delivering exceptional work, I do what it takes to keep the readers till the end.