Have you ever considered what are the merits and demerits of choosing a brand name for your business? In fact, brand naming is no longer as simple as it used to be. With an increasing number of online market channels, the process of naming your company has become more complex. A good business name is very important if you want customers to find you and is also considered in merits of business. A business name can ultimately make or break a company.
While the perfect name may not be easy to find, a balanced name may ease your issue. Despite having significant benefits in choosing the best business name, it is vital to understand both merits demerits of a good brand name. Here in this blog, I have covered all the details, so let's begin.
5 merits of Choosing a Good Brand Name
The purpose of choosing a business name (Company Name as well Product Name) is a significant step in the marketing process. In fact, the purpose of a business name is to improve the image, to become more relevant, more competitive, and more profitable in the respective field. Here are some of the benefits of what will happen if you choose a business name of your business: –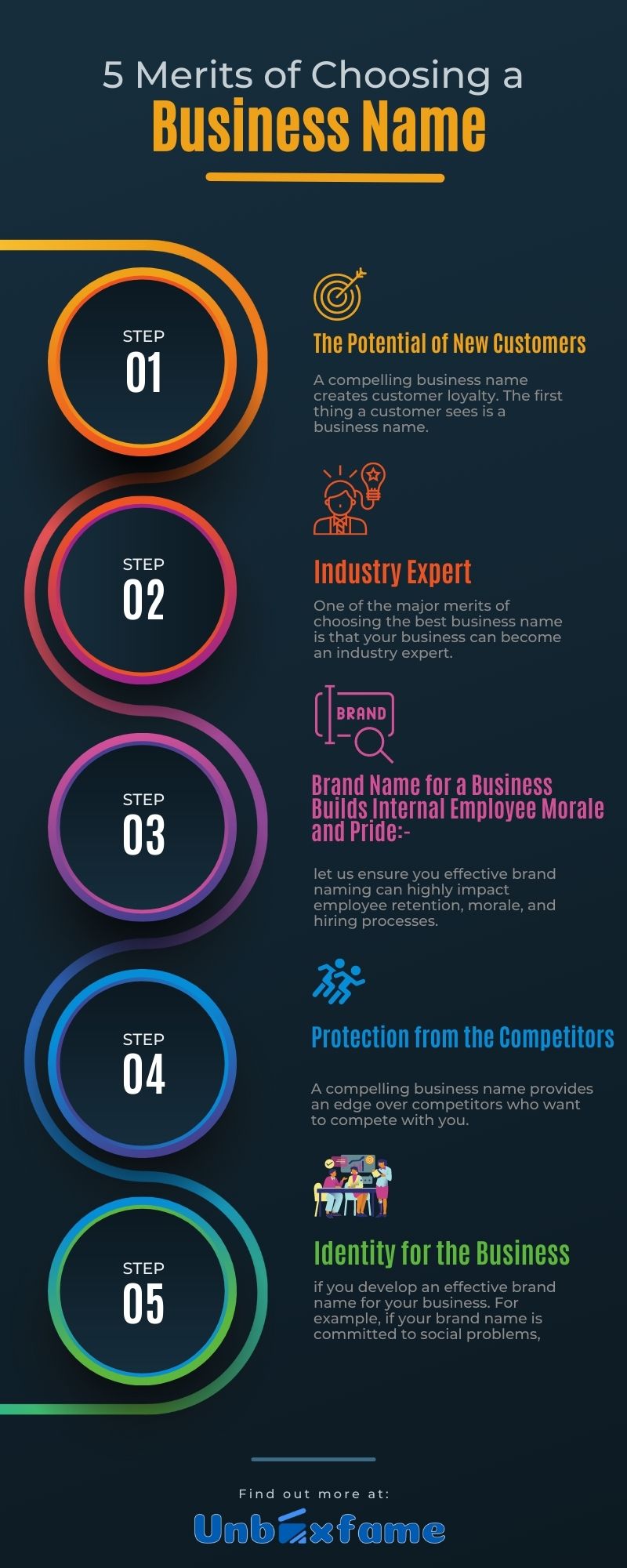 1. The Potential of New Customers
A compelling business name creates customer loyalty. The first thing a customer sees is a business name, so fulfilling it with a good business name can increase your number of new customers. Think of it as a first impression, as your first impression is the last impression. It says highly about your business and the type of services you provide. A catchy business name can stand you out from the crowd, increase new customers, and rejuvenate your existing consumers.
2. Industry Expert
One of the major merits of choosing the best business name is that your business can become an industry expert. With your hard work and an effective business name, you can climb the competition ladder and portray your business as an industry expert. In simple terms, a compelling business name summarizes everything about your business. Try to think of some of the biggest names like Tesla, some core values and beliefs are attached to this name, and their business is at the top because of this. When you think of Tesla, you consider more than just the services or products they provide; you think of Elon Musk, his vision, and the space geek.
3. Brand Name for a Business Builds Internal Employee Morale and Pride: –
Now you will wonder why brand naming is vital for employee morale and pride. But let us ensure you effective brand naming can highly impact employee retention, morale, and hiring processes. To state our facts correctly, here is the data from LinkedIn Business on the impacts of solid employer branding on hiring and retention:-
Impacts of brand name can reduce training costs by 50 percent.
More than 70 percent of recruiting leaders worldwide say that the employer brand name significantly impacts hiring. Fifty percent of employers report more qualified applicants.
These statistics show that the benefits of brand name in your product startups help employees feel like they are working for something big and authentic. They proudly represent your brand name and business, ensuring everyone continually works to satisfy your customers.
4. Protection from the Competitors
A compelling business name provides an edge over competitors who want to compete with you. Without it, they will have no problem making copycats of what made you famous and claim it for themselves. They can provide the same or similar products, but they won't be able to take your style and creativity away. Your business name will help differentiate you from the rest of the competition.
5. Identity for the Business
The business name gives your business identity beyond just the products and services. You become more than a name, especially if you develop a strong brand name for your business. For example, if your brand name is committed to social problems, your organization gets close to these issues in extension to your services. Your ideas will significantly impact society, which consumers will appreciate.
5 Demerits of Choosing a Business Name
Now it is time to consider what will happen if you do not choose a brand name for your business. The problematic part is brand naming involves changes, and too at a very rapid pace. It can create uneasiness among employees and customers. So here are 5 demerits of a company name.
1. Generation of Confusion
There is a high possibility that your brand name is already a different company name. People can get confused by this in selecting your business. And if the same brand name is in the same industry, more chaos is expected. In this scenario, you will again need to change the name, which can stop your business growth.
You can avoid confusion by connecting with your audiences through various platforms like newsletters, business emails, and social media. One more thing you need to check is the domain availability of your brand name.
2. Get Ready for Overbudget
Most of the time, creating a brand name costs your business highly, so you need to be well prepared to overspend. You will require a new branding strategy, graphic design, and content creation to support your new challenge.
By selecting the right naming firm like Unboxfame, you can get the best quality at the right price for your business and save the money you will spend on the abovementioned stuff.
3. Availability of Domain
If you need a name for your business, domain availability is necessary, but most of the time, the domain is unavailable. A .com domain is still the best as it offers domain extensions like .net, .org, and .co. You should try other alternatives if your desired name is unavailable as a domain. You can check the availability of domains on websites like GoDaddy.
4. Change of Industry
Suppose you pick a brand name and decide to go with the name for your business after spending all your money, but later on, you try to change your industry, and if you are using a narrow name, you again need to choose a brand name. So, it is better not to use a narrow name for your business.
5. Generic Name
If you are going with a generic name for your business, it may be challenging to remember for your customers, and it will fail to build brand awareness. To overcome this issue, use a name that is easy to remember, spell and pronounce.
In the end, hiring a proper naming firm for creating a brand name for your business is better advised so that they can guide you best. Let Unboxfame helps you in unboxing at the heights of success.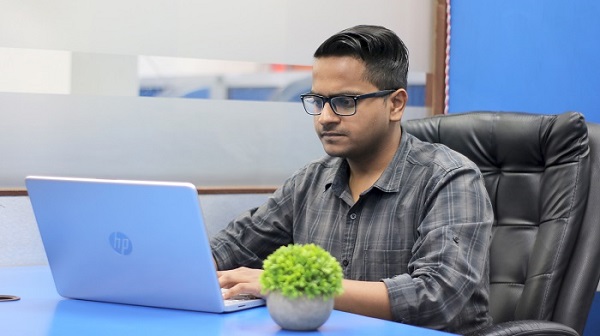 Hi! I am Kartik Rohtela. I am extremely good at one thing, which is creating high-quality, engaging content that resonates with audiences. Being in love with content writing, I have a keen eye for detail and talent. I have a proven track record of success in creating content that informs, educates, and inspires.
Whether developing a content strategy or creating engaging pieces, I bring my creativity and dedication to every project at Unboxfame. With my passion for content and commitment to delivering exceptional work, I do what it takes to keep the readers till the end.