What has been happening in the employment market globally, particularly in the wake of the epidemic, is best described as disruption. The global labor market is constantly changing due to the digital revolution, initiatives to cut carbon emissions in the face of an impending climate disaster, and other geopolitical and sociological changes.
According to studies, numerous economic causes would likely result in the loss of 1.4 crore employment over the next five years. Additionally, new data from the World Economic Forum's Future of Jobs Report 2023 has given a glimpse of what both companies and employees might expect in the next five years.
According to the published analysis, 69 million new job openings are anticipated, while 83 million existing ones would be eliminated, resulting in a total loss of 14 million employment. The survey also lists the top jobs that will expand and shrink the quickest in the following years.
What Will Shape How Employment Looks In The Future?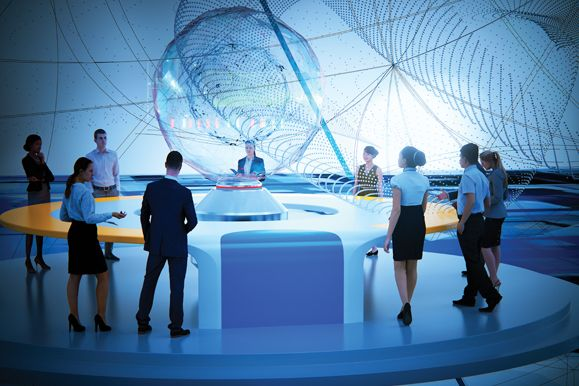 Economic problems, including rising inflation, slower economic growth, and supply shortages, pose the most significant danger. In contrast, macro trends like the green transition, ESG standards, and localization of supply chains are the important drivers of employment creation. Growing digitalization and adopting new technologies will shake up the labor market significantly, creating jobs on the net in the long run.
In the next five years, more than three-quarters of the 803 firms polled for the research will use big data, cloud computing, and AI technologies.
Specialists in autonomous and electric vehicles are in high demand and are predicted to expand by more than 40% over the next five years, making them the most sought-after employment for 2023.
Professionals in environmental protection might have a 35% rise in employment over the same period, closely followed by AI and machine learning specialists, who would experience just slightly less growth.
Data scientists, sustainability experts, fintech engineers, and a number of analytic professions, including business, information security, and data, are all expected to have more than 30% growth rates.
Even while the digital revolution is a driving force behind some of the professions that are expanding the quickest, many non-technical vocations are anticipated to have the largest growth in the overall number of employment generated.
What Rises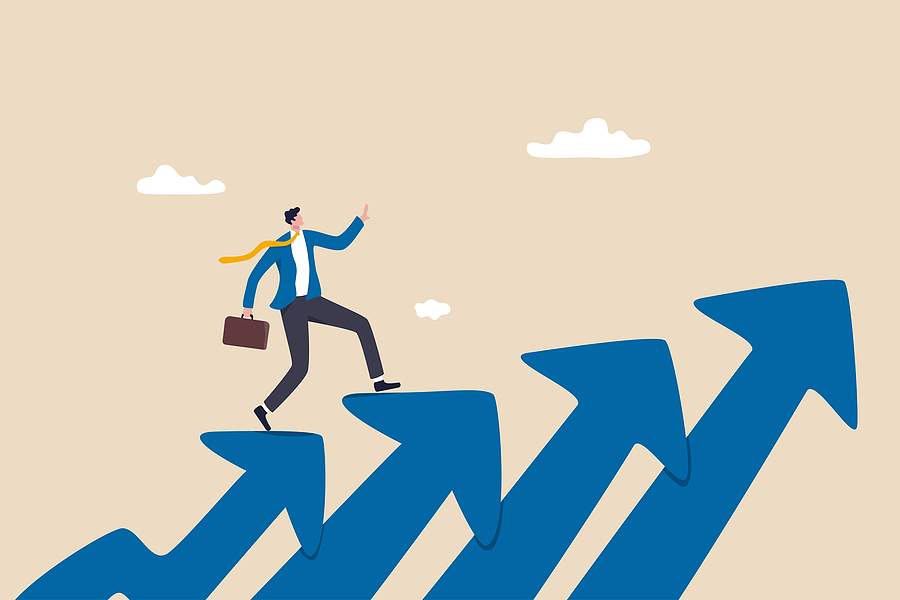 The popularity of certain more conventional occupations is anticipated to decline, while positions focused on digital and sustainability are likely to grow due to sustainability and technological revolutions.
Because of the closure of many physical bank branches due to online banking, it is predicted that employment of bank tellers and associated clerks will fall by an estimated 40% before the end of the decade, which is the quickest pace of any job.
Similarly, the necessity for postal service clerks, cashier and ticket office clerks, and data entry employees is declining due to the rising effect of automation, sensing technologies, and internet services. These professions are anticipated to fall by more than a third during the next five years.
With a projected 8 million employment losses over the next five years, data clerks will suffer the most significant absolute job losses, followed by executive and administrative secretaries, accounting, bookkeeping, and patrol clerks. The Future of Jobs 2023 research indicates that these three professions account for more than half of all predicted job losses.
The Whole List is Available Here: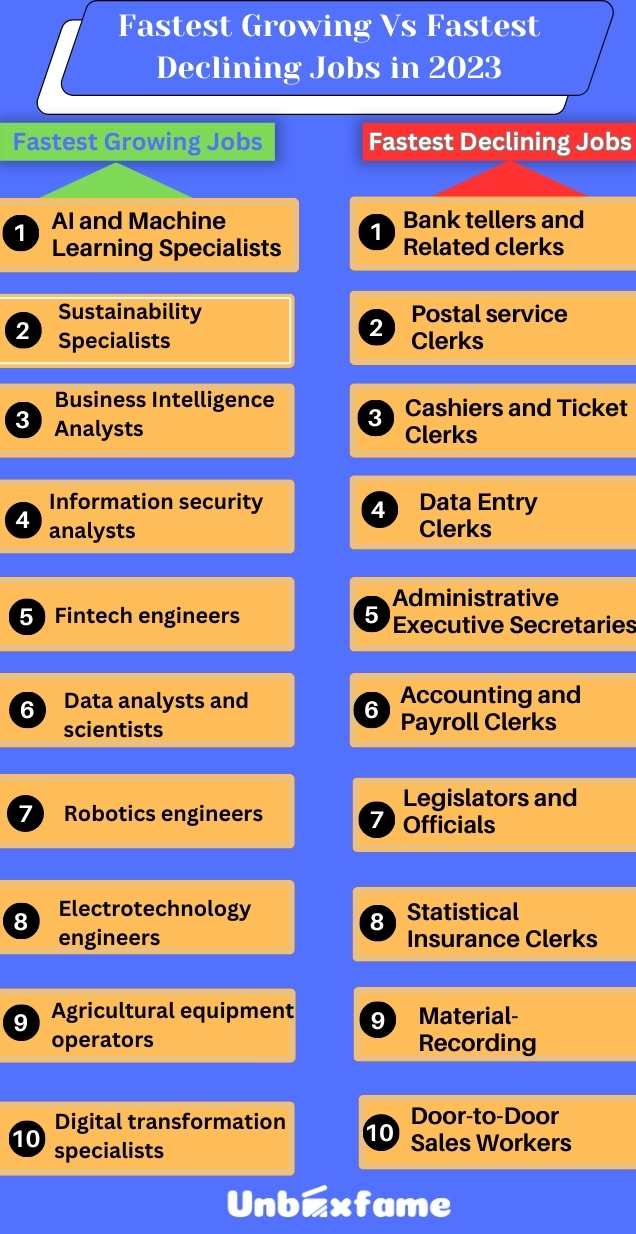 Top Fastest Growing Jobs
AI and machine learning specialists
Sustainability specialists
Business intelligence analysts
Information security analysts
Fintech engineers
Data analysts and scientists
Robotics engineers
Electrotechnology engineers
Agricultural equipment operators
Digital transformation specialists
Top Fastest Declining Jobs
Bank tellers and related clerks
Postal service clerks
Cashiers and ticket clerks
Data entry clerks
Administrative executive secretaries
Material-recording and stock-keeping clerks
Accounting, bookkeeping, and payroll clerks
Legislators and officials
Statistical, finance, and insurance clerks
Door-to-door sales workers, news and street vendors, and related workers
If the globe moves towards renewable energy systems, job possibilities will rise. Over 75% of the 803 companies surveyed for the research are forecast to implement advancements in cloud computing, big data, and AI during the next five years. Additionally, there is a prospect for a rise in green employment across several industries and occupational categories.
According to data from the International Energy Agency that was included in the WEF study, a green recovery scenario could lead to an increase in the global GDP of around 3.5% and a net yearly rise in employment of 9 million new jobs. According to the WEF study, machines presently perform 34% of all work. However, using artificial intelligence will come with both benefits and drawbacks.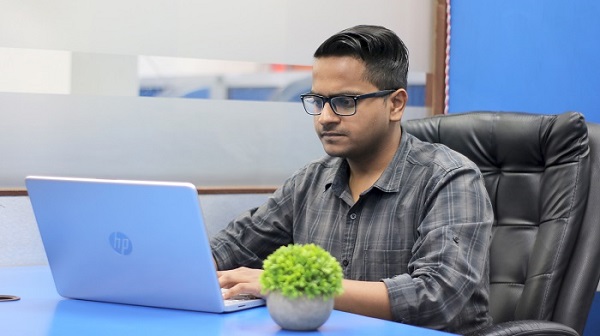 Hi! I am Kartik Rohtela. I am extremely good at one thing, which is creating high-quality, engaging content that resonates with audiences. Being in love with content writing, I have a keen eye for detail and talent. I have a proven track record of success in creating content that informs, educates, and inspires.
Whether developing a content strategy or creating engaging pieces, I bring my creativity and dedication to every project at Unboxfame. With my passion for content and commitment to delivering exceptional work, I do what it takes to keep the readers till the end.