Even for people who are just getting started in business, artificial intelligence (AI) has simplified managing a firm in a variety of ways. Naming a business is one of the most important yet difficult parts of starting one, but thanks to practical AI business name generators, the work can now be done affordably.
These web resources could assist you in coming up with business name suggestions that are inventive, distinctive, and applicable—a few characteristics that renowned company names exhibit.
With adjustable features like filters and aspects that let you check if a business name is already used, the finest Unknown AI business name generator is developed to consider your business idea and name preferences.
Knowing whether the names you want to use are available is crucial given that 1,071,395 new businesses in the private sector were established in early 2022 (U.S. Bureau of Labour Statistics, 2022).
Choosing a name that has already been trademarked and registered could subject you to expensive name modifications as a result of legal issues.
To reach target audiences and differentiate oneself from rivals, branding requires resources, especially for young business owners. Brand recognition, awareness, and a positive reputation are all benefits of effective branding.
Branding is considered to be a company's most valuable asset since it influences consumer behavior through company reputation and perception of firms.
Even today's multinational corporations initially had to personally respond to the query, "How do I come up with a catchy business name that is unproblematic?" Jeff Bezos, the company's founder, had to modify the name of Amazon from "Cadabra" in the beginning since some people misheard it as "cadaver".
With a brand worth about $300 billion as of 2023, the technology company is regarded as having the most valuable name in the world.
The episode highlights the significance of selecting a well-researched, carefully thought-out, and extensively tested company name.
Fortunately, the finest free company name-generating tools do the grunt work of determining whether good business names are available.
The Top 9 AI Tools For Generating Business Names In 2023
1. Unboxfame

With its cutting-edge free AI Business name generator, Unboxfame AI takes the responsibility of revolutionizing corporate identification with its cutting-edge company name generator. By blending the creativity of creation with the power of artificial intelligence, Unboxfame AI transforms the boring process of naming into a fun experience.
It generates exciting, unique names that effortlessly captivate target audiences because of its huge collection of words, phrases, and linguistic patterns. Whether you're launching a company, rebranding your firm, or expanding your business, Unboxfame AI gives a good number of names that are appropriate to your industry, values, and goals.
2. Namelix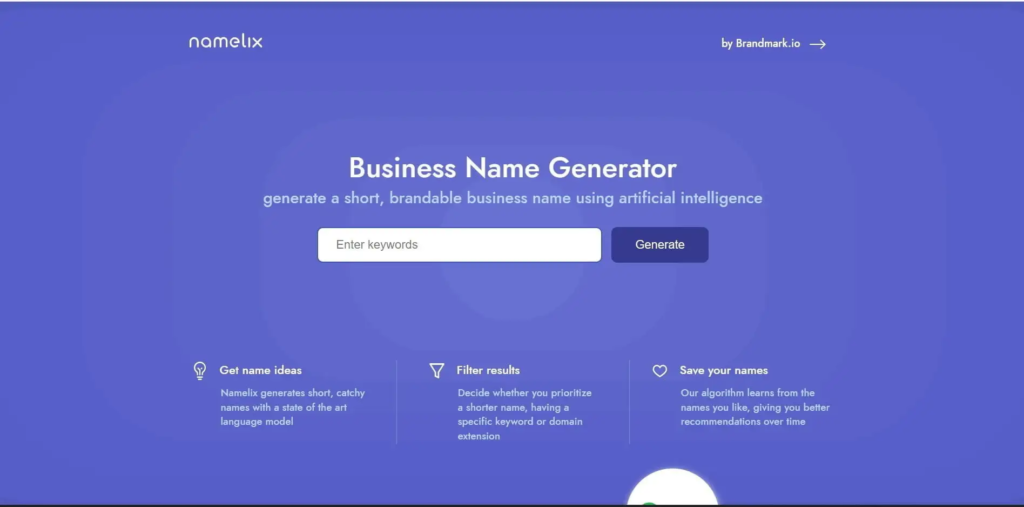 A brand name generator called Namelix creates snappy brand names based on your business concept. By selecting from the platform's name ideas and recording your decisions, Namelix may learn more about your preferences and give you options that are more suited to your needs.
You can explore your visual identity using Namelix's affiliated AI-powered logo builder, Brandmark, after making your selection from the available alternatives.
3. Squadhelp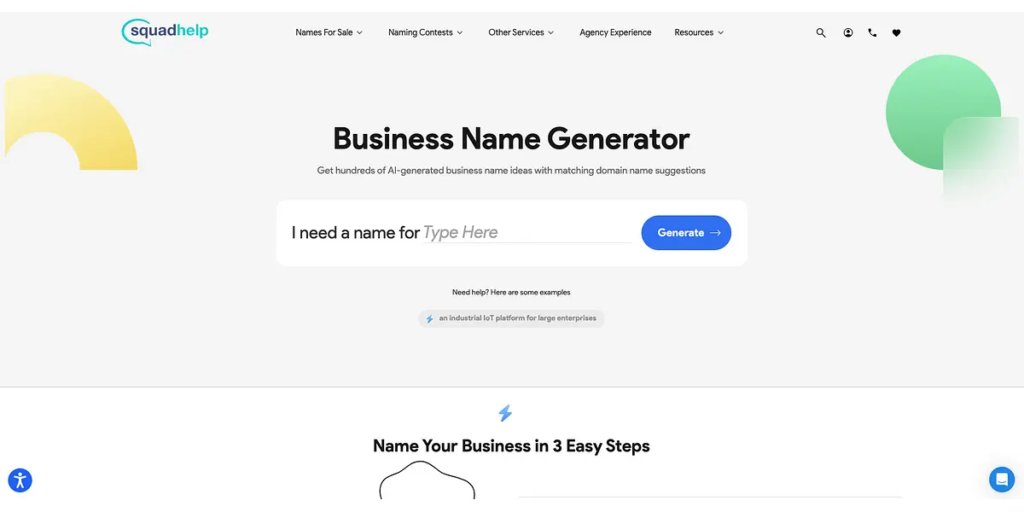 An AI company name generator called Squadhelp offers brand name suggestions and domain name suggestions to new business owners.
In addition to its AI-powered name generator, Squadhelp offers these three other methods for coming up with original company names:
By enabling people to start a competition
By promoting the sale of user names
Utilizing the branding consultants at Squadhelp for agency-level managed contests
4. Name Mesh

A domain name generator called Name Mesh makes sure that businesses have available name options. The website also offers customers advice on how to create effective domain names using the most popular top-level domains, such as ".com" or ".org," as well as second-level domains that are search engine optimized, such as "Research" in "Research.com."
5. The Zyro Business Name Generator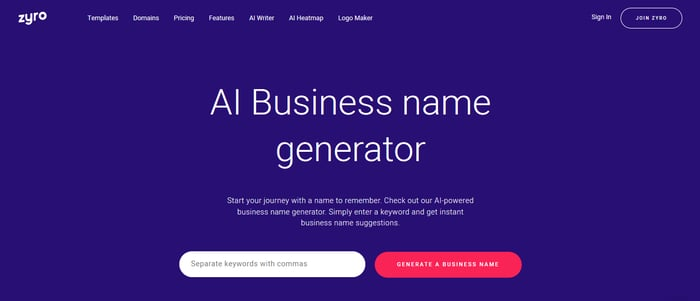 Zyro is a platform for creating websites that supports small enterprises. It offers a free domain availability checker and company name generator that generates potential business names.
In addition, Zyro provides consumers with cost-effective online tools for setting up a website, a blog, and an online store, among other independent services.
6. Wpbeginner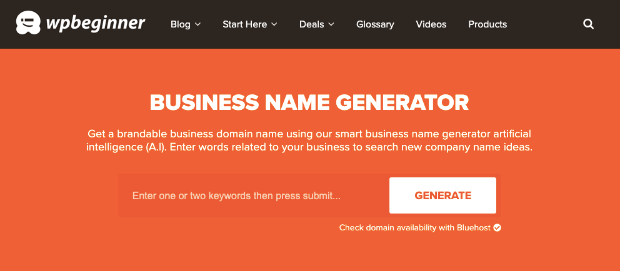 A brand name generator called Wpbeginner generates suggestions depending on the keywords you select. To make sure you may use your preferred company name for your website, it also checks domains that are already taken.
Furthermore, Wpbeginner provides customers with helpful advice on how to pick the ideal company name that meets all of the criteria for relevance, clarity, and branding.
7. BizNameWiz

An AI business name generator called BizNameWiz caters to freelancers, small business owners, and entrepreneurs. It generates distinctive brand names that are promptly examined to see if they are available as domains.
Additionally, BizNameWiz offers its users a user-friendly interface, a straightforward five-step name-generation procedure, and practical included parts, like popular searches and best practices.
8. Wix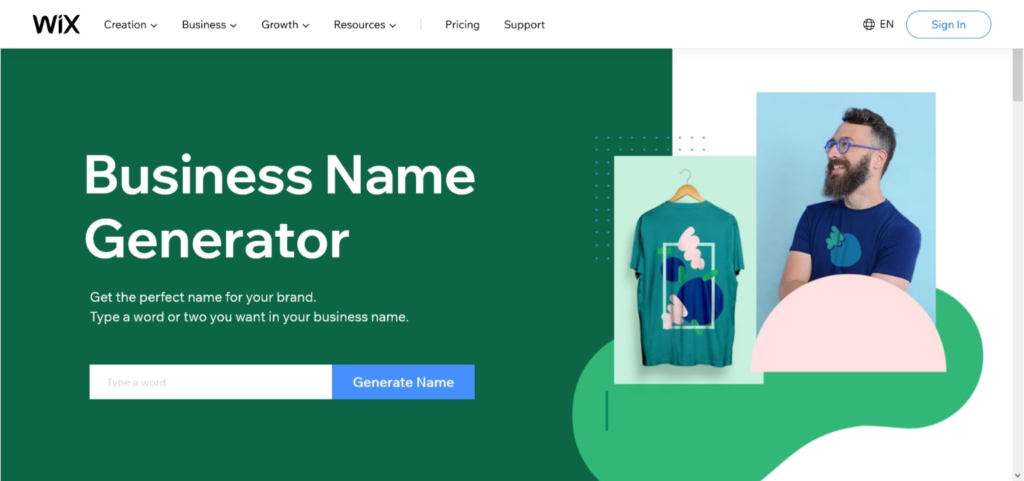 Wix offers free business tools and site development services, including an AI business name generator. After choosing a name from the list of suggestions provided by Wix, customers can move on to generating domain names, designing their logos, and developing their websites.
9. NameSnack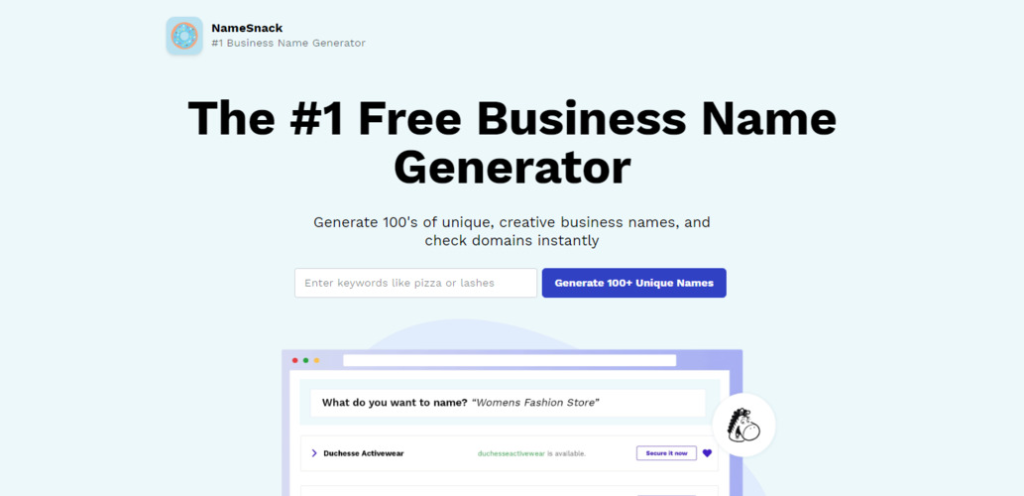 With the use of an AI business name generator called NameSnack, customers can discover original and imaginative brand names that are available for domain name and company name registration.
The online tool may assist users in finding the solution to the issue "How do you register a business name?" when desired names are not yet taken.
Additionally, NameSnack guarantees name ideas with designs that take into account industry norms and best practices for search engine optimization (SEO).
As 98% of consumers searched the internet to learn more about local businesses in 2022, these attributes have been demonstrated to be crucial when generating first impressions toward customers.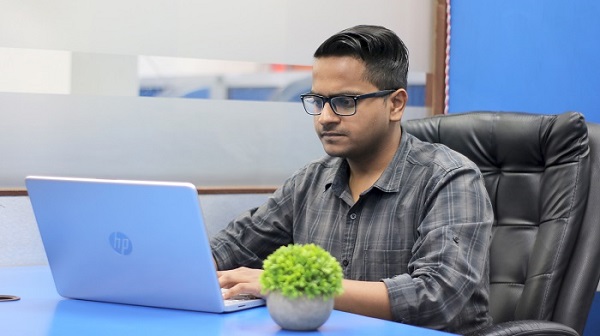 Hi! I am Kartik Rohtela. I am extremely good at one thing, which is creating high-quality, engaging content that resonates with audiences. Being in love with content writing, I have a keen eye for detail and talent. I have a proven track record of success in creating content that informs, educates, and inspires.
Whether developing a content strategy or creating engaging pieces, I bring my creativity and dedication to every project at Unboxfame. With my passion for content and commitment to delivering exceptional work, I do what it takes to keep the readers till the end.