Introduction
Building a brand requires years of preparation, money, and strategy; some of the biggest brands in the world would readily attest to this. During his "Fruitarian diet," Steve Jobs named his electronics and software firm Apple because it sounded approachable, lighthearted, and not scary. Of course, the rest is history! When it comes to names like Google, Facebook, or Skype, we almost always employ them as verbs in regular speech. Such phenomenal brand recall is the highest praise for any business and shows that there is a personal connection between them and the customer. For a modern company, having a cool logo and a memorable brand name for its product is equally important for making an impression and ultimately inspiring great passion in customers.
Here Are 10 Tips to Buy Brand Name For New Startups
Do brainstorming
Avoid choosing a name that could become restrictive as your organization expands.
Execute a detailed Internet search.
Purchase a.com domain.
Select a name that has some significance.
Find trademarks via searching.
Check with the Secretary of State.
Examine the name's catchiness.
Ask for opinions on the name.
Verify the name sounds excellent when spoken out loud.
Why Buy Brand Name for Any New Business or Startups?
In this day of limitless options, a business must create a brand that is recognizable, distinctive, and consistent to attract customers and, ultimately, gain mind share. But there isn't a guidebook for creating a brand. It takes years to build up a brand's position and reputation gradually and through hard work. However, young firms can focus on a few essential elements to guarantee high brand recall, salience, and reputation over time.
When you tell someone about your business, they hear the name first. Good brand names are rarely chosen at random. They serve as carefully chosen representatives of a brand personality and communicate its stance, tone, and values. As much as a strong brand name highlights a startup's maturity and relevance, a name that lacks creativity, vision, and attention to detail can negatively affect how a firm is seen by both consumers and potential investors.
Customers can be emotionally connected to a brand by its name, so it should be something that appeals to their sensibilities and that they want to be linked with in the future. In contrast to terrible names, which elicit disgust or, worse yet, indifference, good names, like good logos, inspire a passionate love for your brand. Poorly chosen names, on the other hand, provoke disgust or even worse, indifference. Whereas good names, and good logos, arouse passionate devotion to your business.
When the feature sets of two or more brands are essentially the same, a strong brand name can give your business a competitive edge. The value of a brand is what it provides for its customers and what it commits to doing for them in the long run. It must communicate this distinctiveness in such a way that the customer is compelled to use it simply by hearing the brand's name.
How to Buy Brand Names for New Fashion Startups?
Fashion brand names should be something that your customers are proud to wear and flaunt to the public to stand out from the competition. The actions below will get you going in the right direction.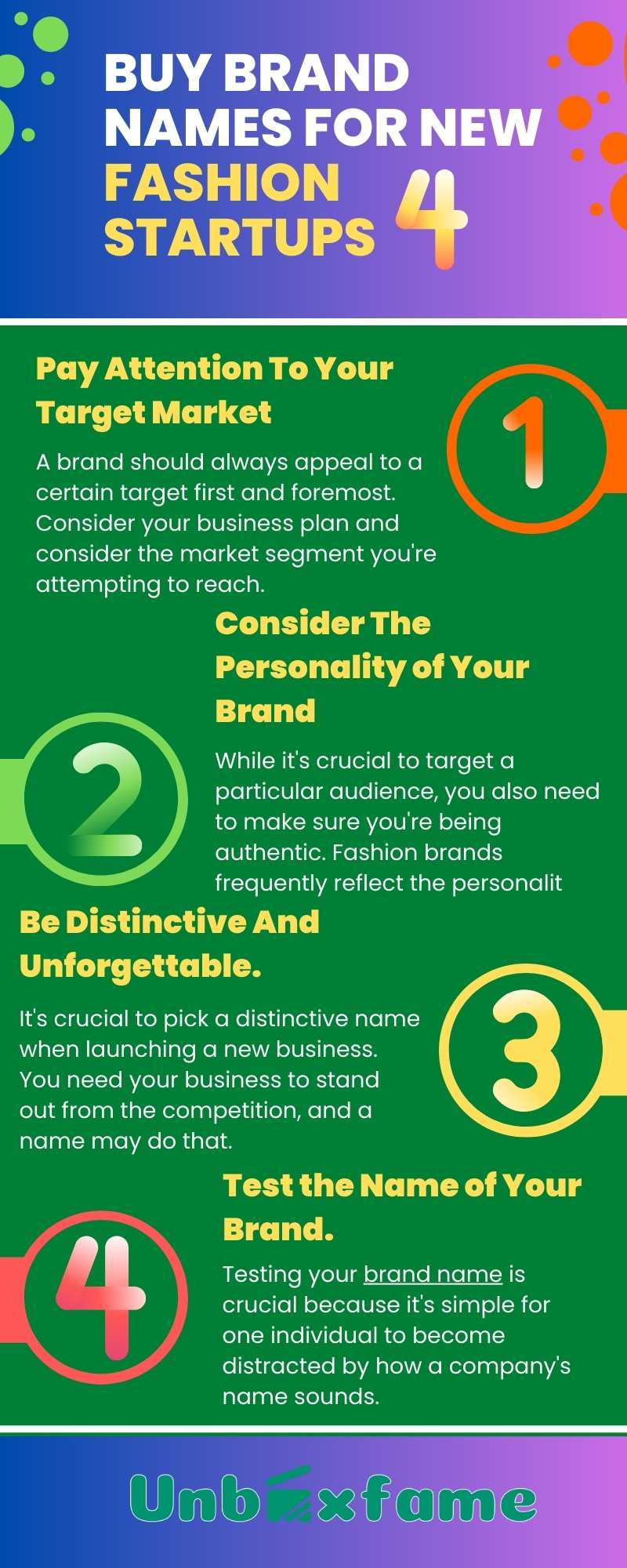 1. Pay Attention To Your Target Market
A brand should always appeal to a certain target first and foremost. Consider your entrepreneur business plan and consider the market segment you're attempting to reach.
2. Consider the Personality of Your Brand
While it's crucial to target a particular audience, you also need to make sure you're being authentic. Fashion brands frequently reflect the personality of the designer while attempting to capture some of the fundamental ideals of the intended market.
3. Be Distinctive And Unforgettable.
It's crucial to pick a distinctive name when launching a new business. You need your business to stand out from the competition, and a name may do that. But it's crucial not to let current trends influence you too much. Pay attention to what makes your business unique.
4. Test the Name of Your Brand.
Testing your brand name is crucial because it's simple for one individual to become distracted by how a company's name sounds. To achieve the desired outcomes, you must make sure that your chosen name is appealing to a broad audience.
The Business Name Ought To Be:
Simple to say, spell, and comprehend.
Emotional, conjuring up ideas or significance.
(Not dependent on trends) Timeless and relevant.
Distinctive and enduring.
Specific to the people you want to reach.
It's not simple to name any organization. Along the road, there will be several obstacles to overcome, including making sure your perfect name is legally permissible and that it will have the desired effect on your audience. The crucial thing to keep in mind is that your audience is frequently exposed to a vast volume of info. Everywhere they walk, we all see innumerable words scattered around us, making it far more difficult for a single name to stand out.
How to Buy Premium Brand Names for New Coffee Manufacture Startups
You might not give the name of your coffee shop much consideration when you are first establishing your own business. After all, there are many crucial elements to work out first, including obtaining finance, creating a business plan, and learning about regulatory needs like obtaining food handlers' licenses.
But building a solid reputation is one of the most important elements of managing a successful company, especially in the food and hospitality sector, where competition is severe and far too many companies fail.
Every business owner should follow a specific process when picking a name for their organization. Think about your mission as the first and possibly most crucial step. It can help you choose a name that is memorable and distinctive if you take into account why you do what you do and what you are seeking to achieve.
Keeping it simple is another important goal. People's attention spans are shorter than ever, therefore a long and difficult restaurant name won't be remembered by anyone. Make sure the name is easy to say and spell and try to keep it to no more than a few words.
Where to Buy Premium or Customized Brand Names For New Startups
Unboxfame, the foundation of any effective branding plan has got your back. We link outstanding businesses with the brightest minds. Our goal is to reach hearts as well as minds by challenging the conventional agency model and delving deeply into the area of creative branding. Our commitment to originality, quality, and innovation enables us to exceed client expectations. Our platform provides more than simply a standard branding experience, in contrast to conventional brand name firms.
We develop an emotional appeal by comprehending the main difficulties and aspirations of our clients while also keeping the target audience in mind.
Our branding and designing are done methodically, carefully following each stage, using a client-centered and iterative approach.
We thoughtfully integrate the brand identity throughout the services we provide, whether it be brand name or logo creation, keeping the company's purpose at the forefront.
We employ state-of-the-art behavior science in conjunction with user experience to produce designs that communicate feelings and brand intent. We analyze the DNA of your brand to develop distinctive qualities for it. Then, draw their attention by giving your brand a catchy name and a visually appealing logo and website. Regardless of your level of business experience, Unboxfame can assist you in finding your specific audience and getting their attention. To create intriguing and intuitive names and logos, we start from scratch. We are a bunch of imaginative people with an eye for architecture. We develop brand names and logo designs that serve as blueprints for your company with a high degree of devotion, dedication, and attention to detail.
What to Know Before Buying or Selling Brand Name?
Most small-business owners will register their name with their state to adhere to state legislation. The procedure of registering a company name typically ensures that no one else will be able to use the same name to sell equivalent services or products. Protection might not be universal, though. Your registration will probably be rejected if another party has already registered your preferred name with the state to market comparable services or commodities. You must use a trademark in addition to filing a registration with the state for the products and services to be regarded as belonging to you.
A company's most valuable asset can be its name. It serves as a representation of knowledge, client care, and brand identity. Rarely do people wish to just purchase a business's name. A company is typically transferred from one party to another by selling both the business and its name. The following factors are typically true when someone just wants to buy a business name:
For the person wanting to purchase it, the name is quite important. The most frequent instance of a business name acquisition will typically entail a website domain name, particularly those that would be able to potentially stimulate a sizable number of page hits.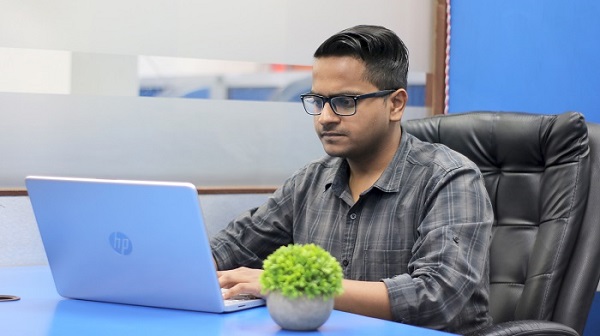 Hi! I am Kartik Rohtela. I am extremely good at one thing, which is creating high-quality, engaging content that resonates with audiences. Being in love with content writing, I have a keen eye for detail and talent. I have a proven track record of success in creating content that informs, educates, and inspires.
Whether developing a content strategy or creating engaging pieces, I bring my creativity and dedication to every project at Unboxfame. With my passion for content and commitment to delivering exceptional work, I do what it takes to keep the readers till the end.