For people from all backgrounds and occupations, personal branding has emerged as a critical employment advantage. Starting to grow this skill as a young professional will be an excellent investment that will pay off in the form of employment chances, networking opportunities, and the creation of an audience you can use to establish your own businesses and side hustles.
Entrepreneurs and business professionals use their personal branding to market their companies, get hired, start side enterprises, and broaden their influence.
In this blog, you will find tips and skills to master personal branding for young professionals.
Follow these personal branding suggestions to learn how to begin developing your personal brand as soon as possible for long-term benefits.
Define Your Personal Brand Using a Personal Branding Framework.
Before you can begin developing your personal brand, you must decide on your objectives and the strategies you'll use to achieve them. This entails figuring out who your target market is, the essential ideas you want to convey to them, and the marketing channels you'll employ to do it.
As a young professional, your objectives may include building a solid resume, locating internship and entry-level employment possibilities, and starting to network with people in your field.
To ensure that you are purposeful about it and have a robust approach while you work to lay the groundwork for your personal brand, using a personal branding framework may help you organize the process.
Give Your Personal Branding Profiles And Assets Some Thought.
Your personal website, social media accounts, public appearances at events, public presentations, and any other in-person or online channels where someone might engage with you all impact your personal brand. Your personal brand results from numerous touch points that your audience has with you.
Young professionals must be careful while creating these channels to maximize the advantages each one may provide.
For instance, maintaining a regular social media presence might result in a sizable, engaged following that generates work prospects or acts as an audience for potential clients when you decide to launch a business or monetize your personal brand.
Also Visit: Why Is Personal Branding Important For Artists
Make Your LinkedIn Profile Complete and Available.
Social media platforms are among the resources for building personal brands that college-age young professionals should use, as was already indicated. LinkedIn profiles stand out among those channels in terms of unique brand value since having a strong online presence benefits professionals in almost every sector.
LinkedIn is an essential personal brand channel for young professionals looking to build their presence and reputation in their particular industries, pursue entrepreneurship, or find their ideal job.
You can also use your LinkedIn profile to increase exposure and begin developing your personal brand on the platform and filling out your profile. Actively sharing content about your industry and desired profession, networking with others in your industry, and engaging with other people's content are all different ways to do this.
Narrate Your Story
Your own brand needs to be distinctive. That entails ensuring it is based on your narrative about yourself as a rising star in your field.
If you pretend to be this, not only will your personal brand come out as untrue, but you could also have trouble maintaining consistency. Being authentic is straightforward. Making up a persona requires effort and reduces your chances of maintaining consistency and developing a solid brand.
Sharing your experiences, hardships, and victories with your audience is part of telling your story honestly. Doing this may establish a stronger connection with others and gain their trust and respect. Consider the distinctive experiences you are now having and navigating at this stage of your academic career as you prepare for this.
For instance, you may decide which day of the week you want to post a Twitter thread detailing your victories and losses for the previous seven days. Alternatively, you may create a weekly Friday LinkedIn post that describes things you've learned from work or school.
Obtain a Mentor via Networking.
It's likely the usual advice you heard while in college or the first few years after, but it's a cliché for a good reason: it's true. It might be challenging to navigate your early professional career. You may develop relationships that might last the duration of your career by stepping outside of your comfort zone and establishing new contacts in your field. Talking to and getting to know individuals in your profession might be beneficial in the future and, of course, may open up new career prospects.
Whether you're a young professional or not, finding a mentor might be essential to your career success. You can gain helpful information by talking to someone about your career possibilities, workplace conflicts, and general professional life. Ask your mentor questions about them, their job, and their motivations. What spurs them on to perform the task they do? What do they feel strongly about? Let their tale motivate you to create your own since stories are strong motivators.
Keep Your Personal Brand Consistent Across All Channels
Speaking of other platforms, you must maintain consistency throughout every marketing platform you use if you want to develop a solid personal brand. The language, tone, and visual components should be consistent throughout your marketing platforms, including your unique brand website, social networking sites like LinkedIn and Twitter, email, and offline correspondence. Strong personal brands enable people to maintain a consistent branding strategy across their marketing platforms, just like corporate brands do.
Do Not Stop Learning
Once you reach adulthood or begin your career, learning never ends. Once you leave school, it continues. Instead, your educational adventure has only just begun.
In addition to learning naturally at work, it's critical to always look for learning opportunities if you want to develop in your profession. Whether it means enrolling in a class to build your skill sets, requesting to shadow someone for a day in a role you'd like to move to, or making the time to read a book about your business.
Our businesses, industries, and vocations are all continually changing. Therefore, we ought to adapt to them. It's crucial to emphasize learning, particularly if you're a young professional wanting to further your career. Learning may boost our creativity, enable us to overcome long-standing problems, and better grasp the environment in which we live and work.
Final Verdict
Young professionals may use personal branding as a powerful technique to assist the development of their network and build the groundwork for future career and entrepreneurial prospects. By using these suggestions, you can create a powerful personal brand that will enable you to stand out from your peers, improve your reputation in the eyes of employers, and help you create a valuable asset that will serve you for the rest of your life.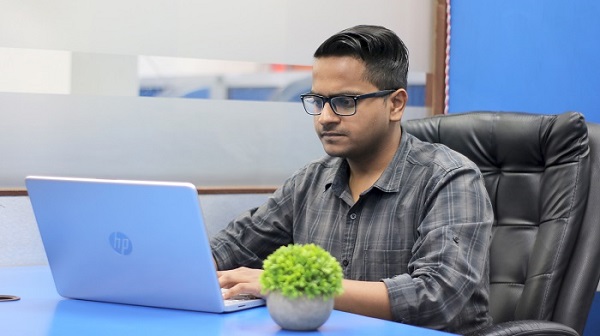 Hi! I am Kartik Rohtela. I am extremely good at one thing, which is creating high-quality, engaging content that resonates with audiences. Being in love with content writing, I have a keen eye for detail and talent. I have a proven track record of success in creating content that informs, educates, and inspires.
Whether developing a content strategy or creating engaging pieces, I bring my creativity and dedication to every project at Unboxfame. With my passion for content and commitment to delivering exceptional work, I do what it takes to keep the readers till the end.