For company growth, digital marketing has become indispensable. A 360 digital marketing agency plan must include all of these activities, whether sending customers personalized emails with promotions, setting up a social media campaign, or improving your organic SEO.
A 360-degree perspective suggests that you are closing all gaps in your strategy so that no prospective clients can get lost. Understanding the essential digital marketing checklist is necessary for planning small business positions for success and growth. The 20 unique features of successful digital marketing are covered for reviewing your digital marketing strategies or if you want to learn more.
Here are 20 Unique Ways to Create a 360 digital marketing strategy
1. Role of SEO in 360 Digital Marketing Strategy:-
Search Engine Optimization, or SEO, is a method of driving visitors to a website through "organic" or "unpaid" listings on the search engine results page (SERP). It is a technique for raising the search engine ranks of your website. Your website has to be modified so that these search engines can quickly identify the kind of information it includes. They trawl through your website, looking for various items, including text, phrases, documents, graphics, structure, user-friendliness, and many others.
Everything is documented. When a user searches for anything, the search query is compared to the cataloged material, and the most relevant results are presented to the user. If your website appears higher in these rankings, more people will click on it and visit it.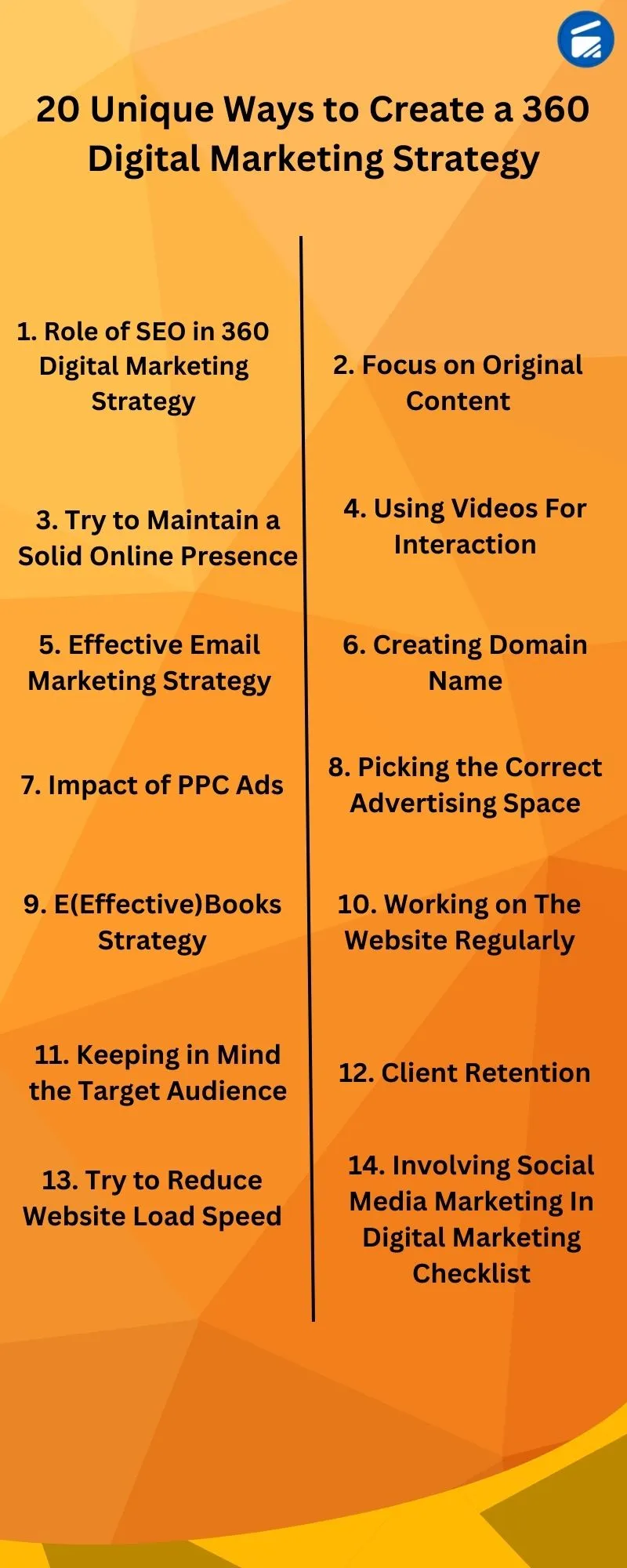 2. Focus on Original Content:-
For your website and social media pages, you need high-quality, original material, whether text, photographs, videos, or audio. It's equivalent to wandering blindfolded without a plan for your content marketing.
What Makes for Effective Digital Marketing Content?
Users desire to read this information because they find it interesting or because it fulfills their needs.
It has original, comprehensive, and well-researched content.
3. Try to Maintain a Solid Online Presence:-
A 360 digital marketing agency must be aware of a strong internet presence because it is crucial and can have a significant impact on how successful your business is. Unfortunately, several companies are still unaware that the majority of their clients visit their websites prior to making a purchase. You need to create a fantastic website with a landing page that is immediately appealing and educational if you want to expand your business and get leads.
4. Using Videos For Interaction:-
Using video in your content marketing plan is another typical 360 digital marketing strategy. Video content marketing gives businesses a flexible and shareable tool to connect with their target audience in addition to being effective and handy. You can employ a variety of formats, including videos on your company's culture, products, explainers, onboarding, and promotions. Some companies even go so far as to produce their own office reels just for their audience.
5. Effective Email Marketing Strategy:-
Email marketing is a tried-and-true marketing strategy. It is economical and increases credibility. Execution is effortless when using robust email marketing solutions like email campaigns. Email marketing, unlike other digital marketing methods, enables you to communicate with your customers frequently. There are a variety of email marketing trends that you may implement right away into your marketing plan.
6. Creating Domain Name:-
Any Digital Marketing Checklist cannot work without considering a domain name. Get a domain name that applies to your company and utilize it to develop your brand. A.com or.net extension is suggested. Limit the domain name to three words or less, and leave out any spaces.
Be sure there are no competing businesses with the same domain name before registering a domain name by conducting a Google search for the title. If so, look for something distinctive because it will be incredibly challenging to advertise your brand and score highly for relevant searches if you don't.
7. Impact of PPC Ads:-
Digital marketers who use Pay Per Click, often known as PPC, pay a fee to advertisers each time a customer clicks an ad. The most well-liked PPC advertising format is search engine advertising. It enables advertisers to pay for ad placement in sponsored links on a search engine. Using the keyword "digital marketing ideas" as an example, if you bid on it, your ad can appear at the top of the Google results page. So, PPC is the simplest approach to boost the visibility of your business page and your chances of gaining new followers.
8. Picking the Correct Advertising Space:-
While Paid search is the most straightforward and most efficient approach to reaching clients, there are instances when it is just preferable to choose a website with the desired traffic and get in touch with the owner to purchase advertising space. By doing this, you cut out the middleman, which benefits both you and the publisher.
9. E(Effective)Books Strategy:-
EBooks are a fantastic way to expand your audience and boost your brand. As they are digital, readers may read anywhere by downloading hundreds of eBooks on their devices. Moreover, adaptable ebooks can be made available in a variety of forms. You can sell them to achieve incremental revenue growth or give them away as downloaded gifts to prospects to enhance lead generation. A downloaded eBook can help you appear more professional in a company by providing the impression that you are delivering a customer a personalized item of value.
10. Working on The Website Regularly:-
Spend some time considering your website's structure and functionality on a daily basis. A professional website is distinguished not by how it "looks" but by how user-friendly it is across all platforms. Determine the reason for having a website, and make sure the design reflects that. Remember that a website serves as a representation of your brand and should be something of which you are proud.
11. Keeping in Mind the Target Audience:-
A target audience is a group of people with similar likes and dislikes, who are more likely to buy your product or service. Chart out a demographic list- age, location, sex, etc. Identify which platforms they use most and make your 360 digital marketing strategy.
12. Client Retention:-
A 360 digital marketing agency must focus on customer retention; ignore growth. Provide your best services, keep the client abreast of current developments, make new proposals, and engage with them more to comprehend their business requirements. In general, establish a rapport and perform. This can result in more referrals for you!
13. Try to Reduce Website Load Speed:-
Page speed is a significant ranking and usability consideration. Removing extraneous graphics and other decorative components may make your website as quick as feasible. Use the Google PageSpeed Insights tool to check the speed of your website and adhere to their suggestions.
14. Involving Social Media Marketing In Digital Marketing Checklist:-
Effective social media marketing can produce outstanding results and significantly increase your company's revenue and leads. Start by tracking the social media posts of your rivals. Take note of which of their content performs better and use their strategies in your digital marketing 360 plan. Also, you can examine their customer service and contrast it with yours to get clear ideas for development.
15. Starting a Podcast:-
Podcasts and other unconventional forms like these help drive traffic to your page. The primary goal is conversions, but as a 360 digital marketing agency, you also need to showcase your talent and creativity by using these novel, distinctive ways.
16. Implementing Chatbot:-
Customer service is the backbone of any organization, and this is a universal reality. Chatbot implementation will have a number of advantages for both your business and customers. First, the chatbot enables round-the-clock customer service, reducing the likelihood of complaints from your clients. Also, the chatbot can help you establish a rapport with your clients.
17. Create Backlinks to Your Webpage:-
Implementing a content cluster plan into your marketing is another 360 digital marketing service to improve your SEO. If you haven't already, you may create topic clusters with several internal linking opportunities by beginning with a pillar page (which could be a landing page). The subject cluster approach has many advantages for your business, including the following:
More extensive subject:- Your pages will all be grouped effectively if you use a content cluster strategy.
More excellent content organization:- Your company can organize its content using pillar pages. Your blog can be organized around topic cluster pages by using pillar pages.
Enhanced SEO:- Your SEO will gradually increase by providing your blog authority over a particular issue if you link topic cluster pages to pillar pages.
18. Make Use of Mobile Marketing:-
The goal of mobile marketing is to contact a target audience via mobile devices, including SMS, email, websites, applications, and social media. It's crucial to consider devices when developing your marketing strategy and to incorporate SMS/MMS marketing and mobile applications. It enables you to track your efforts' success, reach a wider audience, and develop more personal relationships with your clients. All organizations can benefit from mobile marketing because it is cheaper than other marketing techniques.
19. Fostering Inbound Leads:-
Effective lead nurturing across all digital channels should be one of your company's top priorities. A 360 digital marketing strategy indicates that you'll take care of your prospects' and customers' needs across all your digital marketing channels.
Inbound lead nurturing is supplying leads in your contacts database with constant, high-quality material that is relevant to help them progress through the sales process and ultimately convert into recurring customers.
20. Continue to Refine Your Digital Marketing Initiatives:-
There is no beginning or conclusion to the practice of digital marketing. Your efforts should never stop, and there are countless opportunities.
Your digital marketing efforts don't have a start or end date as a PPC or social media campaign could. The above 20 digital marketing strategies are merely a very brief description of what you can do in each area. There are countless chances to promote your brand online. Enrolling with Unboxfame is the greatest approach to thoroughly understanding how to utilize digital marketing to the maximum.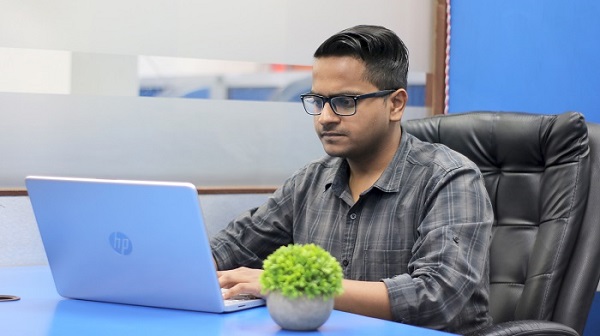 Hi! I am Kartik Rohtela. I am extremely good at one thing, which is creating high-quality, engaging content that resonates with audiences. Being in love with content writing, I have a keen eye for detail and talent. I have a proven track record of success in creating content that informs, educates, and inspires.
Whether developing a content strategy or creating engaging pieces, I bring my creativity and dedication to every project at Unboxfame. With my passion for content and commitment to delivering exceptional work, I do what it takes to keep the readers till the end.