A word, a number, a symbol, or even a color scheme may perfectly express the essence of your brand. By the registration of a trademark, this identity is safeguarded. Trademarks represent your company and what it stands for while also telling a unique tale. In plainer terms, they might be thought of as distinctive brand badges that safeguard the company name. Whatever trademark you intend to register must be specific to your company and set your goods or services apart from competing ones. A trademark name that solely describes a quality, feature, goal, or function of your product might be one you want to avoid using.
It is possible to use a trademark in the nation in which it is registered because trademark protection is dependent on the territory. The trademark must be secured in each nation if you intend to utilize the brand name abroad.
What Is a Trademark?
An "identifier of source" is a trademark. This means that whatever customers use to identify the source of the goods and services they use as their own is a trademark. A trademark registration around your branding can help you stand out in the market and make it simple for customers to identify and recognize your goods and services if you're starting or running a business.
Intellectual property, also known as "IP," includes trademarks. Property of this kind is regarded as "intangible." This implies that you are unable to hold it. Nonetheless, you still own it as property. Your copyrights and the protection of genuine inventions are the sources of intellectual property (works of art).
Apply for trademark in USA
Every person or business can apply for trademark registration online USA to safeguard their goods or services. The trademark, the applicant's name and address, the agent's name and address, and a power of attorney must all be included in the application. The following organizations are eligible to register trademarks:
Shared Owners:- A company's joint proprietors may apply for a trademark, and the application must include both of their names.
Ownership Business:-The business and proprietorship names cannot be used in a trademark application by a proprietorship entity. Your application will be evaluated separately if you submit proprietorship and business names.
Partnership Business:- A partnership firm, is created when two or more people operate a business as partners to generate earnings that are divided equally or following their agreements.
LLPs or Limited Liability Partnerships:- LLP companies can apply for trademark registration using their respective LLP names because they are incorporated under their own names. But, the partners themselves are ineligible to apply.
Trust or Society:- Trust or Society refers to organizations established focusing on social service rather than profit. A legal arrangement that is based on a beneficiary holding the property and appointing trustees to manage the assets and activities is known as a trust. If more people band together to accomplish a specific goal, an organization may be registered as a Society. Trust and Society can register trademarks, provided it is done on their behalf.
A person:-Anyone who wants to register their distinctive phrases or symbols may submit a trademark application in their own name.
Trademark registration process in USA
Trademark registration USA is necessary for practically all businesses or entrepreneurs to seek for a variety of reasons. By Registering a trademark USA, it grants a business special and legally recognized rights, safeguards the trademark from unauthorized copycats, stops others from using it, whether intentionally or unintentionally, enables the trademark owner to sue or recover damages in the event of infringement, and for other such similar reasons is today more and more in the industry becoming something ubiquitous and universal.
What Are The Documents Required For Applying for Trademark Registration?
For the trademark registration online USA(Trademark Process), the following information and papers must be provided:
Together with the entity type, the applicant's name, address, and signature
Types of goods and services covered by the brand registration
The grounds for filing
The draught or digital representation of the trademark or logo that has to be registered
A detailed description of the trademark
Fees
These documents are necessary for trademark registration online USA which can be done to establish a fruitful and reliable relationship with clients.
Trademark availability USA
According to certain conditions, trademarks will not be registered if:-
It lacks any identifying qualities, making it impossible to distinguish the goods or services of one individual from those of the competition. If a trademark lacks distinctiveness, it cannot be registered.
It is descriptive of items that are not seen as being distinctive at first glance. A common word cannot be registered as a trademark if it refers to the nature or quality of goods and has no other connection.
Words that are in the public domain cannot be registered as trademarks until they develop a distinctive character. This is customary in the current language or the legitimate or established practice of the trade.
Its nature is such that it can confuse people.
It includes any material that could harm the religious sensitivities of any group or class of citizens.
It has scandalous or defamatory content.
The products or services covered by the following mark are the same as or very comparable to those covered by the prior mark.
What Is the Process of Filing a Trademark?
On the TEAS, the trademark application can be submitted online (Trademark Electronic Application System).
6 Steps for apply for trademark in USA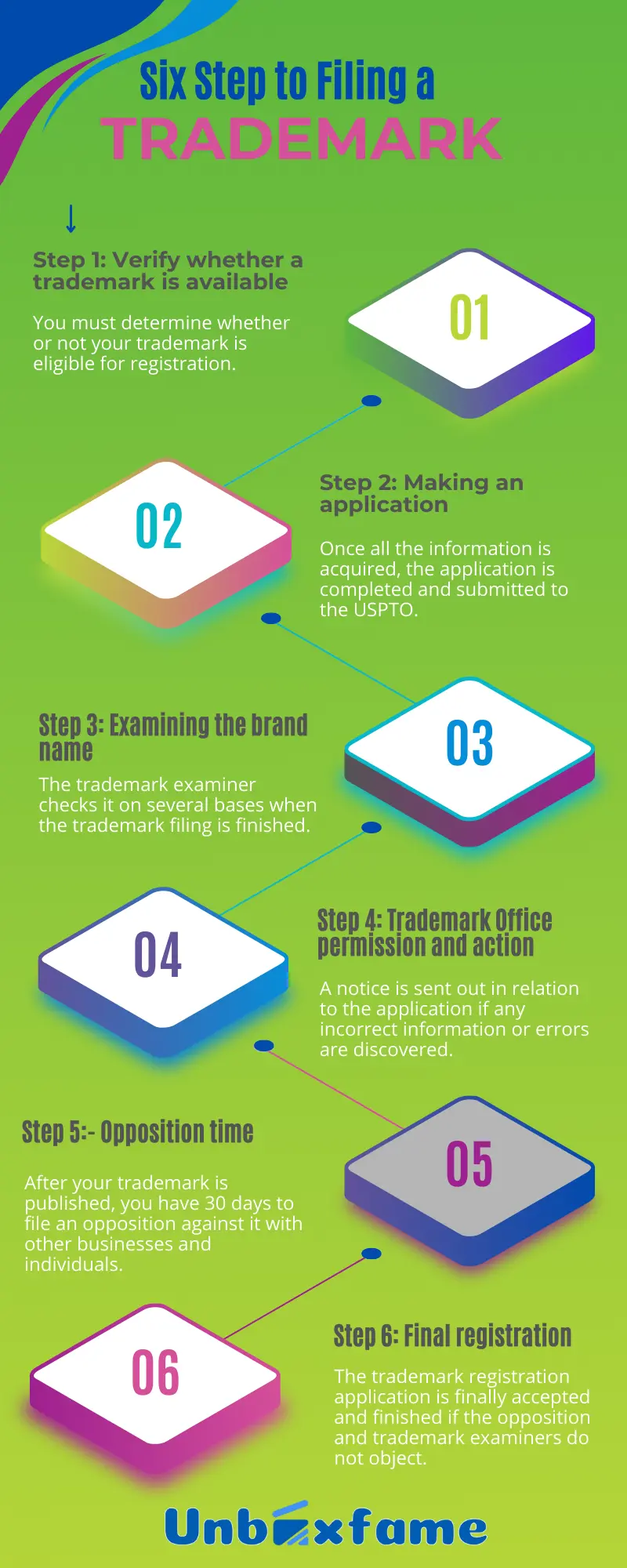 Step 1: Verify Whether a Trademark Is Available
You must determine whether or not your trademark is eligible for registration. An extensive investigation must be done in the trademark registry database to determine whether any identical or related trademarks have previously been registered.
Step 2: Making an Application
Once all the information is acquired, the application is completed and submitted to the USPTO.
Step 3: Examining The Brand Name
The trademark examiner checks it on several bases when the trademark filing is finished.
Step 4: Trademark Office Permission And Action
A notice is sent out in relation to the application if any incorrect information or errors are discovered. For the application to be approved, you have six months to change the information or reapply. The form is then sent to the Official Trademark Gazette for approval if no objections are voiced.
Step 5:- Opposition Time
After your trademark is published, you have 30 days to file an opposition against it with other businesses and individuals.
Step 6: Final Registration
The trademark registration application is finally accepted and finished if the opposition and trademark examiners do not object. A "notice of allowance" is also given.
Objection And Opposition:
If there is an objection or an opposition, you will have enough time to react with justifications and supporting evidence for your claim to ownership of the contested mark. Also, if your arguments and supporting proof are strong, you will be granted trademark registration. Your application will be turned down if you don't.
How Much Does It Cost to Register a Trademark?
There are several variables that affect how much it costs to register a trademark and keep it current. Your initial application fee, for instance, is determined by the number of classes of goods or services you include in your application and the application filing form option you select. Depending on your filing basis, you might have to pay more fees after submitting your application. You must continue to pay maintenance costs once your trademark registers in order to maintain its registration. But, depending on the sort of trademark you are registering, the initial registration price is either $250 or $350.
How Long Will It Take to Register a Trademark?
If the trademark has already been used in commerce, you can typically anticipate the trademark process to take between 12 and 18 months. The Examining Attorney handling your application and the number of trademark applications received by the USPTO will frequently affect how quickly your application is processed.
Benefits of Trademark Registration USA
The following benefits of trademark registration in USA include:
Legal ownership of the brand all across the US
The brand is given the most incredible level of protection after registering with the USPTO.
Additionally, the trademark's usage rights are granted exclusively
Legal action may be taken against individuals who attempt to duplicate trademarks.
Elsewhere else in the world, trademark registration is more straightforward.
How Will Unboxfame Help You to Get a Trademark?
The trademark registration procedure can be difficult and full of choices that generate ethical dilemmas. Contact Unboxfame for answers to your unique trademark process queries if you have any questions or concerns about your mark or the application procedure. You can get assistance from Unboxfame services throughout the process, from running a trademark search to submitting your trademark application.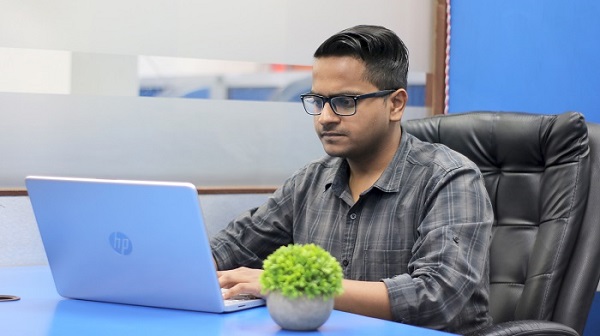 Hi! I am Kartik Rohtela. I am extremely good at one thing, which is creating high-quality, engaging content that resonates with audiences. Being in love with content writing, I have a keen eye for detail and talent. I have a proven track record of success in creating content that informs, educates, and inspires.
Whether developing a content strategy or creating engaging pieces, I bring my creativity and dedication to every project at Unboxfame. With my passion for content and commitment to delivering exceptional work, I do what it takes to keep the readers till the end.