In today's competitive beauty industry, hairstylists need more than just exceptional hair skills to stand out and succeed. Forging a distinct personality and attracting devoted customers, it is essential to have a strong personal brand. By showcasing your knowledge, sense of style, and personality via personal branding, you may become recognizable and in demand. In this article, we'll discuss the essential components of Personal Branding For Hairdressers and offer helpful advice on building a memorable brand that appeals to your target market.
1. Define Your Brand Identity:
Determine your target market, passion, and unique selling qualities first. What distinguishes you from other hairdressers? What are your areas of knowledge and specialization? Knowing who you are as a Brand can help you focus your marketing efforts and draw in customers who share your beliefs and sense of style.
2. Create a Memorable Logo and Visual Identity
Invest in a Creative Logo Design that embodies your brand's soul and represents your personal sense of style. Your logo will reflect your business visually and will be used on your website, marketing materials, and social media accounts. Your brand image will be unified and recognizable if your color scheme, typography, and overall visual identity are consistent.
3. Develop an Engaging Website:
Your website is the online hub for your personal brand. It should be visually appealing, easy to navigate, and showcase your work and services. Include a professional bio that highlights your expertise and achievements. Share client testimonials and high-quality pictures of your hair designs. Include links to your social media platforms and your contact information as well.
4. Utilize Social Media:
The use of social media sites like Instagram, Facebook, and Pinterest by hairstylists to promote their services and interact with potential clients is powerful. Post consistently beautiful pictures of your hair designs, behind-the-scenes photos, and informative material. Interact with your followers by responding to comments and messages promptly. Build a community by collaborating with other beauty professionals and sharing their work.
5. Offer Valuable Content:
By posting informative articles about hair care, style advice, and trends, you may establish yourself as an authority in your profession. To instruct and motivate your audience, write blog pieces, make instructional videos, or hold live Q&A sessions. You may gain visibility and customer confidence by establishing yourself as a credible authority by producing helpful content.
6. Network and Collaborate:
Connect with other hairstylists, beauty influencers, and industry professionals to expand your network. Attend industry events, join professional associations, and participate in workshops or masterclasses. Collaborate with photographers, makeup artists, and fashion stylists for photoshoots to showcase your versatility and creativity.
7. Provide Excellent Customer Service:
Deliver exceptional service to every client who walks through your salon doors. Make an inviting environment, pay attention to your client's requirements, and go above and beyond to satisfy them. Customers that are satisfied with your services will promote your brand to others.
8. Seek Professional Development:
Stay updated with the latest trends, techniques, and technologies in the hair industry. Attend workshops and industry conferences to enhance your skills and knowledge. Continuing education keeps you ahead of the curve and positions you as a knowledgeable and trusted hairstylist.
Remember, personal branding is an ongoing process that requires consistency and adaptability. Regularly evaluate and refine your brand to stay relevant and align with your evolving career goals. With a strong personal brand, you will attract your ideal clients, build a loyal following, and elevate your hairstyling career to new heights.
Take the time to invest in your personal branding and watch your hairstyling business flourish. Establish your unique identity, showcase your expertise, and connect with your target audience through a compelling personal brand. Following the tips mentioned above can create a strong foundation for your personal branding as a hairstylist. Be genuine, embrace your individuality, and allow your love of hairstyling to come over in everything you do. Your brand will distinguish you in the beauty sector and build your credibility as a go-to hairdresser. So, start your Personal Branding journey with Unboxfame now and unlock new opportunities for success in your hairstyling career.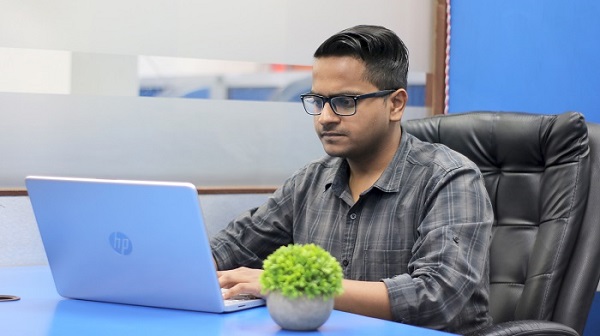 Hi! I am Kartik Rohtela. I am extremely good at one thing, which is creating high-quality, engaging content that resonates with audiences. Being in love with content writing, I have a keen eye for detail and talent. I have a proven track record of success in creating content that informs, educates, and inspires.
Whether developing a content strategy or creating engaging pieces, I bring my creativity and dedication to every project at Unboxfame. With my passion for content and commitment to delivering exceptional work, I do what it takes to keep the readers till the end.