The market for the baby clothing business is estimated to be worth a phenomenal 67.35 billion dollars, according to the most recent data. In fact, sales of newborn and kid products alone totaled a staggering 361 million US dollars in 2022.
By starting your own baby clothing store business, you could wish to add to this statistic. In that case, you'll need to come up with some original baby clothes brand name ideas to set yourself apart from your rivals.
My name is Kartik, and I'm here to help you choose a name. This blog will cover the ten successful tips for naming a baby clothing store in 2023, whether you're looking for actual baby clothes business ideas or just some suggestions.
Ten Tips For Generating A Great Baby Clothing Business Name
In order to come up with memorable names for your baby clothing store, go by the following suggestions:
1. Pick simple-to-spell and pronounce baby store names.
Find suggestions for business names that are simple to spell and make sure that clients can locate your company or enter in your website address. Additionally, a baby store business name that is simple to say can enhance your word-of-mouth advertising. Finding a distinctive name for your business may seem like a good idea, but if no one can pronounce or spell it, it will be difficult to grow your consumer base. So choose a name that is easy to spell and pronounce.
2. Make sure that the name of your baby clothing store company appeals to new parents.
Parents-to-be wants to feel good about their shopping choices. It's critical to make sure your company name connects with customers and piques their curiosity because it will serve as their initial introduction to your store.
3. Select a creative baby business name that accurately describes your brand.
Many outstanding company names express what the store sells right up front. As an illustration, you may use a name like "David's Baby Clothes" or "Baby's Diapers." Customers may learn what to expect from your store without having to conduct additional research when you include what you're really offering in your business name.
4. Use evocative words to foster trust.
Choose a brand name for your baby clothing store that conveys trust. Only when the buyer is confident in their decision-making for their child can baby items be successfully sold. You must ensure that your business name emphasizes the reliability and security of your infant brand.
Consider baby company names first that are just as unique as your child's name. Then think of cute sayings that appeal to new parents and help them connect with your company.
5. Check the availability of the domain.
When you believe you've come up with the ideal baby business names, you don't want to discover that you can't really use them. Many organizations make this frequent error, but don't worry—it can be easily fixed. You may immediately contact us or just check on any domain research tool.
You may start setting up a website or developing your social media handles as soon as you know your name is accessible for usage. Your name will be more likely to be accessible if it is original and different from other names already in use.
6. Ensure that it makes sense.
There are certain names that, at first appearance, make absolutely no sense. As a result, having a name that is simple to remember is a terrific method for people to understand exactly what you do. Utilizing one or two words can be pretty helpful in this situation. An overly basic name will cause you more worry and work, but a simple name will be far more effective.
It's usually a good idea to use language linked with babies, and there are many fun ways to accomplish this. Alliteration may make a name more appealing to listeners and more fun to repeat aloud.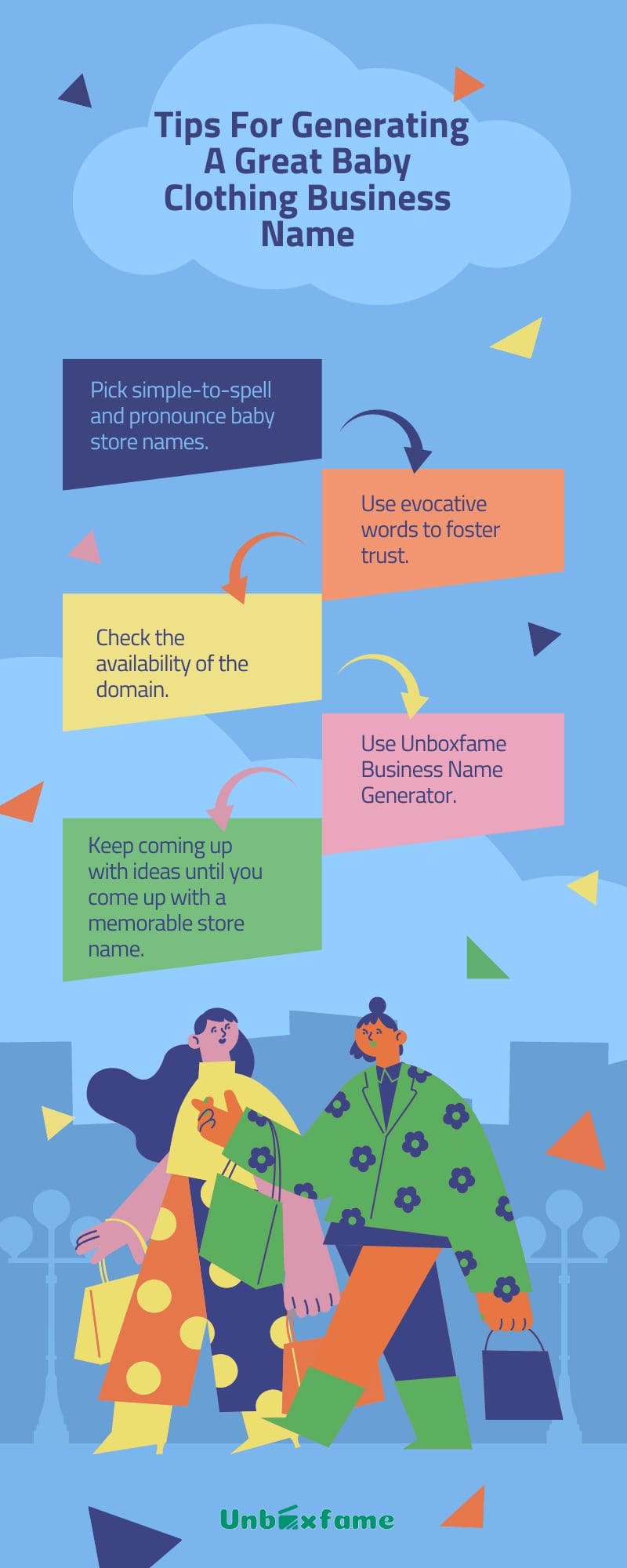 7. Keep coming up with ideas until you come up with a memorable store name.
Your new company name must convey the importance of a newborn child, which might be the most significant event in a parent's life. Consider integrating a term with emotional resonance while brainstorming a meaningful baby business name, such as "family," "joy," "love," or "blessing."
Once you've done that, write down as many terms as you can that you think of when you think about infants or the goods you want to market. With the list you create, you'll undoubtedly surprise yourself! Then, you may combine and contrast these words to create something very imaginative and original.
8. Ask for opinions.
When considering how to come up with baby clothes business names, this is conceivably one of the most crucial things to take. By requesting feedback, you can interact with your customers' thoughts and truly incorporate them into your brand. Try to assemble a diverse group of people and quiz them about things like:
What comes to mind when you hear our name?
What age group do you suppose our company is aimed at?
What kinds of things would you connect our name to?
To find out which names are the most popular and which names you should cross off your list, you can even ask them to score each name on a scale of 1 to 10.
9. Use Unboxfame Business Name Generator
We want to remind you to utilize our business name generator if you haven't already. It truly is the simplest tool to use when looking for ideas for company names. Enter some terms you can think of that you identify with newborns or your brand into the generator.
As you are presented with hundreds of possible business names, just sit back and unwind. You're sure to enjoy at least a few of them!
10. Identify whether you are satisfied with the baby store name you have picked.
Even if the baby clothes business ideas meet all the criteria of being an excellent brand name, you could still have mixed feelings about it. Make sure that the branding you've picked makes you personally happy. After all, the name will stand in for your company, and it ought to fill you with pride and enthusiasm.
Catchy Baby Clothing Store Names your customer will admire
Big city babies
Momentot
Kiddishop
Diaperfy
Teenistore
Babydream
The Littlest Star
BabyBurrito
The Great Bambino
Elephant + lamb
Zoodle Lolly
The Sweetest Dream
AngelGear
Jelly Babes
Unicorn Villa
Baby Palace
Magic Clothes
Ducklings
Magic Pebble
Little Ones
Honeybees
BabyBoo
Kiddo
KidsDept
Sunshines
FAQ's:
Is Baby Store Business Profitable?
Compared to other businesses, starting a clothes store for children has a minimal initial cost. The only things left to do are create an effective company naming strategy and buy the necessary materials to make it profitable.
How to start up a baby clothing brand?
Firstly to start, you need to research and understand how to brand, read a book regarding that and follow the steps to build a solid base regarding mission, objectives, future of the baby clothing brand, etc.( this will help in deciding on selling method- direct or in big brands), the next important step is to do a lot of research- visit similar shops around your location, understand the trends and customer reviews for the product, investigation can clear a lot of questions.
What is a good name for a clothing business?
A good name for a clothing business is one that represents what your brand is all about. For example, the name Clothing Gold clearly explains the type of clothes the company is selling.
How to come up with a name for your baby clothing business?
To come up with a name for your baby clothing business, you can read the above ten tips mentioned in the blog. If you still have any doubts, please contact us anytime. We will be delighted to help you create an effective baby clothing brand name.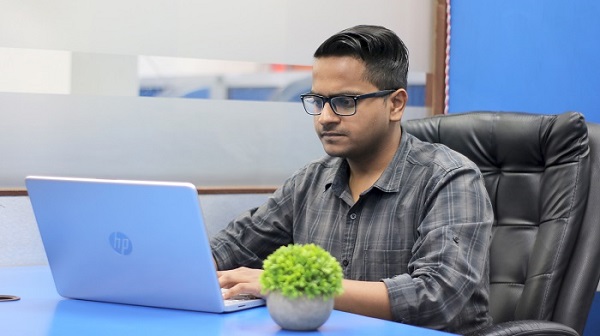 Hi! I am Kartik Rohtela. I am extremely good at one thing, which is creating high-quality, engaging content that resonates with audiences. Being in love with content writing, I have a keen eye for detail and talent. I have a proven track record of success in creating content that informs, educates, and inspires.
Whether developing a content strategy or creating engaging pieces, I bring my creativity and dedication to every project at Unboxfame. With my passion for content and commitment to delivering exceptional work, I do what it takes to keep the readers till the end.