Today we are going to have a look at brand naming and branding statistic that was carried out for the last couple of years critically analysing how branding works in the marketing industry. Branding is important for all companies but how can be improved, so without waiting a single moment let's get started and learn some amazing facts about brand naming and brand statistics in 2023.
1. A Brand's First Impression Matters A Lot
The first impression is the last and it is very much true when it comes to brands so it is not good for you to risk your brand. It takes about 50 milliseconds (0.05 seconds) for people to form an opinion about your brand (8ways, 2019).
If you've got an online store or your business exists online, brand virtual representation is important and if you don't care about your website then you have chances to lose your customers.
To attract customers you are required to optimize and improve your website content. Try to ensure people have a good experience and are comfortable when visiting your website, providing them with what they are searching for. Make sure it is easy for them to navigate the menu on your website and the time they spend on the website is fun, enjoyable, and informative gaining where they get to learn new things.
2. Customers Buy Products Based On Trust
When consumers buy from brands, they are essentially placing their trust in them. According to a survey, in the United States, 46 percent of consumers when buying from brands, they are placing their trust in them and they tend to pay more to purchase from that specific brand naming they trust than to the brand they do not trust. (Salsify, 2022).
Building long-lasting relationships between the customer and the brands builds trust which makes the customers reward the brand for their services. Today customers not only care about product experience but customer experiences that brands promise along with the brand's impact on society. In simple words, the customers and brands build a trust-based relationship in the long run based on the honesty and authenticity of the brand.
3. In Branding, Authenticity Is Very Important
88 percent of consumers say that authenticity is one of the main key factors when deciding what brands they want to shop from and like to support. (Stackla, 2021).
Customers want the brand to be authentic, transparent and be honest with their dealing with their customers. The presentation and carrying out of the businesses make the brand authentic and more reliable as the customers are becoming more vocal about their demands for authenticity
This demand extends to Gen Z as well. Millennials and Gen Z consumers in the 21st century are most demanding and expect businesses to care about their customers more than their profits. If they fail to see this in any brand they are most likely to shift from one brand to another easily to the one who cares.
4. Color Matters For Brand Recognition
Using a signature color can increase brand recognition by 80 percent when it comes to marketing so choose the color wisely that can make an impact on people about your brand. (Reboot, 2018).
Color contains emotions, it is a unique way to market your brand. They can have a drastic impact on the customers associated with the brand, the right color enhances the brand's visual representation.
Color psychology and branding play a vital role in advantaging to express your brand in all possible ways, different colors means can have a different effect on your brand that you use on your customers.
5. Stand Out of The Crowd With Band Customer Service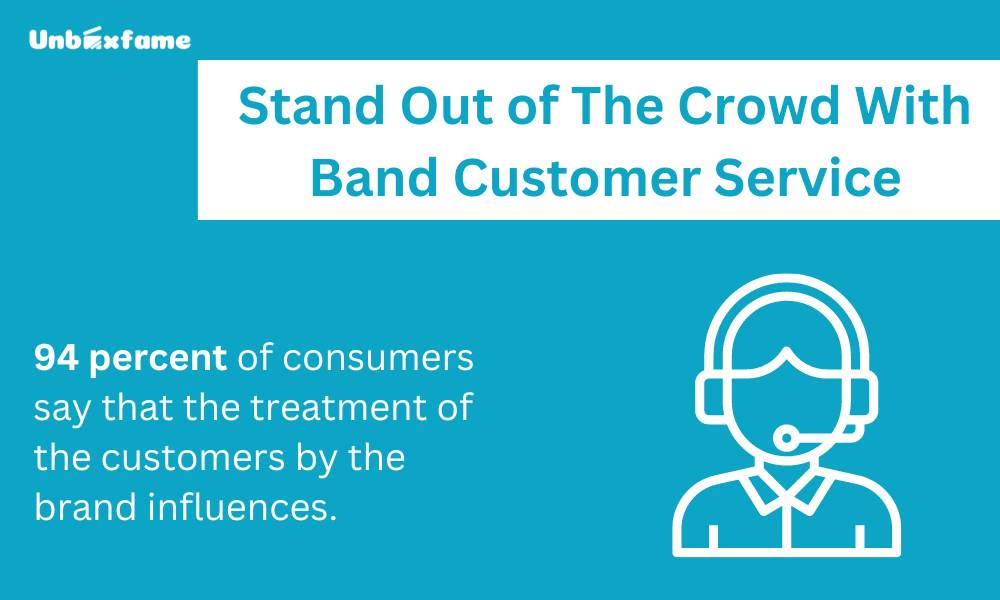 To be frank, it is not an easy job to stand out of the crowd, surveys show about 94 percent of consumers say that the treatment of the customers by the brand influences their purchase (Salesforce, 2022).
Customer services have many aspects, it is not just about buying the product but also about the brand providing convenience, extra-mile service, and a friendly approach and gesture toward their clients and the customers. As a brand representative, you can also give the customers a personal touch or hand by noting their needs and want about their preferences by personalizing your approach to dealing with your clients.
To be honest, the bond between customer and brand does not end on purchases that are been made but on the services that are being provided to the customers. It also includes post-purchase while helping the customers by helping in fund-return, return of the product, or even the queries they might have. The experience that is customized by the brand for the individuals can create higher chances of gaining and retaining the consumers by their side.
6. Brand Consistency Is Important For Branding
Customers appreciate it when businesses are consistent making sure the brand has values, images, and messaging across all channels. It is observed that in surveys that more than two-thirds (68 percent) of businesses agree that brand consistency has contributed to revenue growth of 10 percent and more (Lucidpress, 2021).
Customers want to know more about the brands they like and expect the brand to have transparency which makes it easy for them to remember the brand and associate with the brands.
When customers know your brand, they will be able to trust your brand.
When the customers know your brand better, they trust the brand and they happen to rely more on the brand. At this point utilizing brand guidelines across all channels can give customers a consistent experience about the brand. In this way, customers also remember you and your brand.
Having a strong bond between the brand and customers improves the traffic of new customers along with an increase in employee motivation, and a unified direction for business.
7. Transparency Is Vital For Your Brand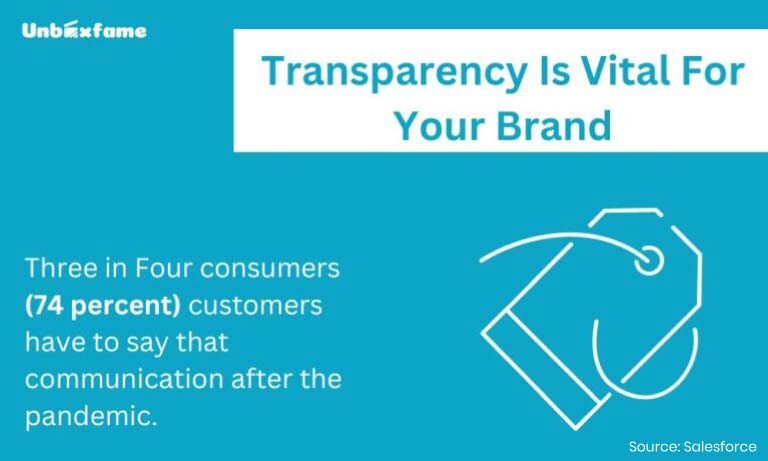 In 2022, a survey conducted by Salesforce showed that about three in four consumers (74 percent) customers have to say that communication after the pandemic COVID-19 has became very important than before.
With transparency, trust is made stronger, and with trust, transparency in communication and a personal touch is built. Transparent communication has never been this vital as people these days are getting frustration easily as they are being treated as cases ad, not human beings, which is true for some parts and some brands.
Companies need to establish an emotional connection with their customer that is not only strong but authentic maintaining the current customers they have and the future customers that are supposed to come.
People leave tweets, reviews, and their honest thoughts no matter what they are with thinking how this might affect the brand and this also reaches other people as they review these comments and review about the brand making them look bad even if they are not bad affecting the brand to lose the customers. And this is why brand transparency is vital.
In the era of the internet, people leave reviews on all platforms of social media, which is very much important to drive new customers and if the reviews are not good then then there will not be any new customers. People get whatever they want in just one click about the brand, if there is no visibility or transparency between the customers and beans then it is not good for the future of the brand.
8. Consumers Expect Brands To Be Vocal About Social Issues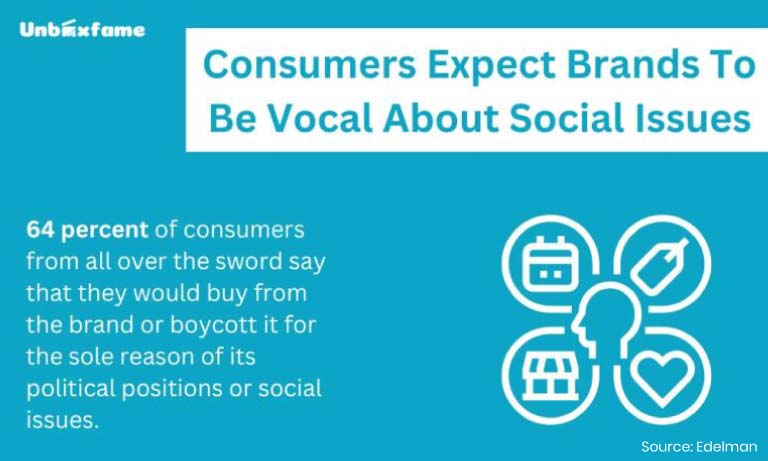 Most consumers want brands to raise their voices and take a stand on social or political issues. About two-thirds (64 percent) of consumers from all over the sword say that they would buy from the brand or boycott it for the sole reason of its political positions or social issues (Edelman, 2019).
But the brand should not be vocal about the issues and matter that they do not believe in, they should be realistic and transparent which makes the customers believe in them and the root of their trust gets deeper. People do not tent take an interest in the fakeness of social issues as many brand promises.
9. Good For Business Is Being Meaningful And Having A Purpose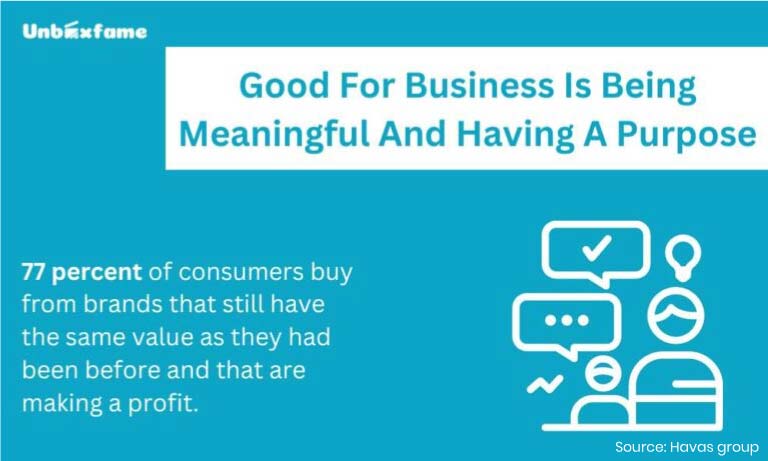 Above we have already discussed how the brand need to stand for things other than just gaining profit. Surveys show that 77 percent of consumers buy from brands that still have the same value as they had been before and that are making a profit. To draw the attention of the targetted audience it is very much important to understand your audience which makes it easy for them to make decisions by understanding what is meaningful to the customers in the first palace and then forming a meaningful brand on that basis.
But what is the meaning of a meaningful brand? A meaningful brand has an impact on everything overall creating meaning for everything. This includes the relationship between the brand and its audiences that only change and develop with time which may even take years sometimes. Customers need to be addressed genuinely and be cared about the purposes that are wide and broad than just the product and services.
10. User-Generated Content Is Crucial For Brands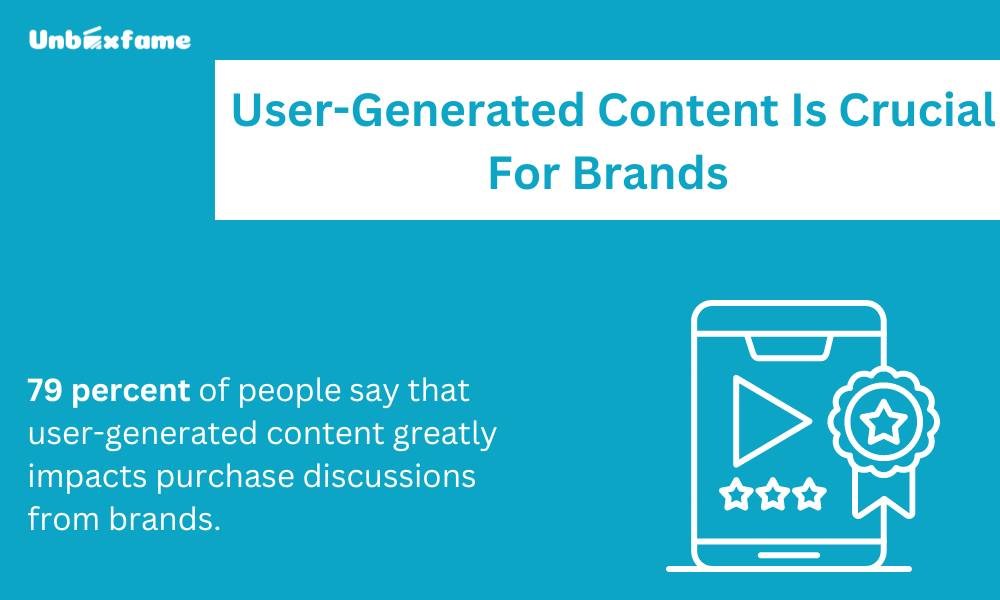 79 percent of people say that user-generated content greatly impacts purchase discussions from brands. User-generated content which includes comments, videos, images, and especially reviews along with several others that customers post ont eh social media platforms has a great impact on the brand both negative and positive.
In today's time, customers have become smart than ever before that do thorough research work before choosing a particular brand, they look for the experience of others shared with them and this will make them decide whether or not they want to go there.
Conclusion
So in conclusion, you must have had a fair idea of the brand statistics of the customer behavior and their needs and wants, their expectations front the brand, and how you can improve your services and relationship with the customers creating a brand name and bond that is unbreakable and stays for the longest time.