Did you know that many of the popular brands started off their journey with a completely different Brand name? Yes! That's right. Be it Google, Facebook, or Instagram, each of these highly successful brands took on the rebranding bandwagon in ways big and small.
While some brands changed their business names completely, some shrank and revamped their names in an attempt to change public perception about what they do. The rebranding process is no less than skating on the ice where one minuscule error may result in an impending collapse. Be it complete brand revamps or logo changes, the industry has witnessed it all.
In the present business world where competition is rampant, it's crucial to get your branding right. Particularly, your Brand Naming has to convey more and do more than ever before. Even if all the stars align well and your branding is in line with your goals, times evolve and your brand name might have to be re-thought.
Take Facebook, for example. The brand recently changed its name to Meta to be known beyond social media and reflect its futuristic vision. Here's the announcement:
The name change might not affect the pre-existing image of Facebook. However, rebranding has often proved to be a game changer for brands wishing to face-lift their influence, image, or reach.
With that in mind, let's look at some of the reasons why companies or brands change their names
Why Do Companies Change Their Brand Names?
This question has a number of potential answers. Below mentioned are the most popular ones:
Merger or acquisition
Inaccurate or restrictive name
Need for a brand makeover
Direction change
Brand revamp
Attracting new clients
Improve your company's appeal
Leveraging a better and stronger name
Let's have a look at some of the brands that were named differently when they kicked off.
Also Visit: How to Find creative Business Name Ideas for Your Startup
List of Brands That Changed Their Name in 2022: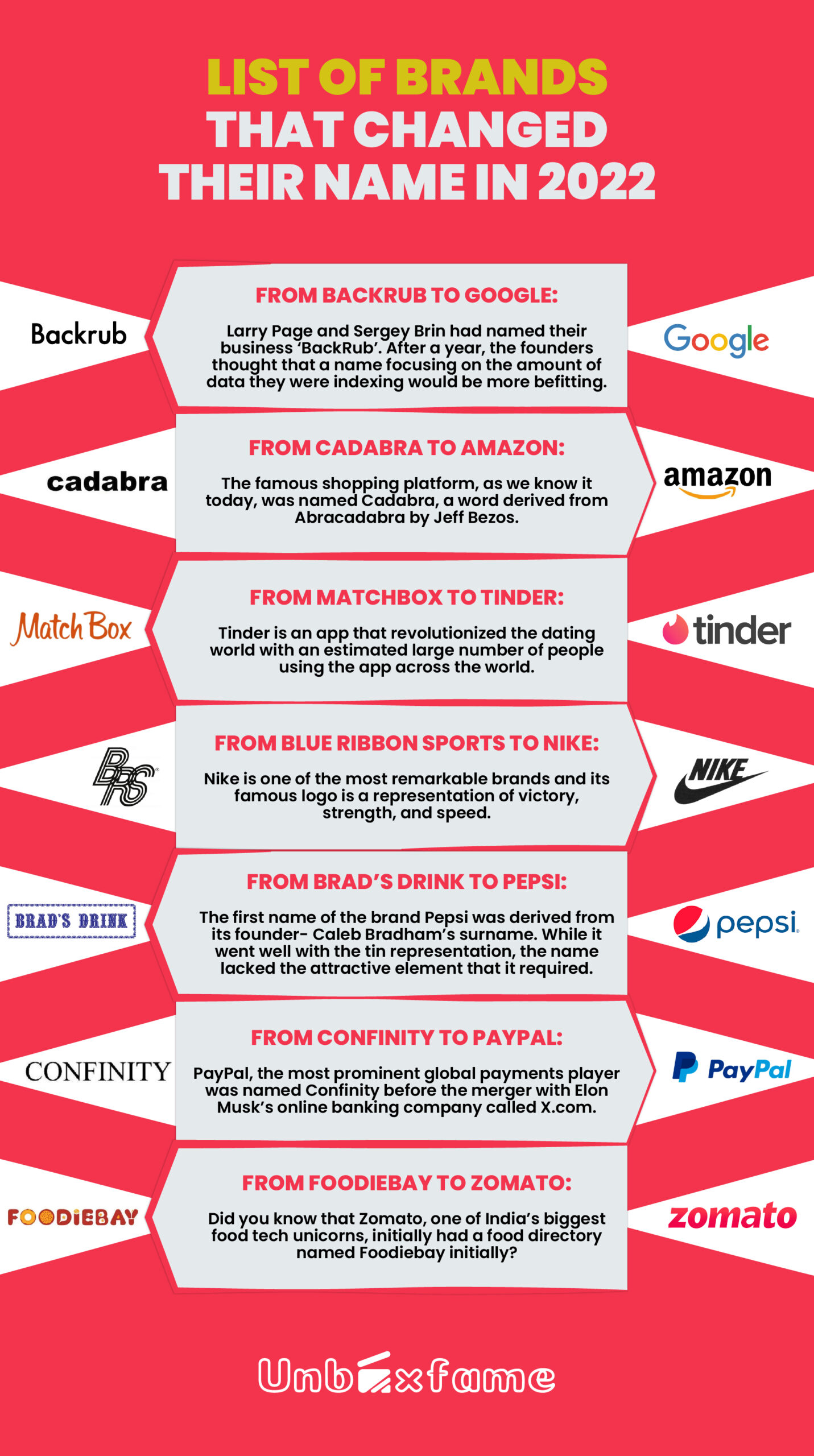 1. From Backrub to Google:
Inspired by the way their search engine examined the web's backlinks to determine the relevance of a website, Larry Page and Sergey Brin had named their business 'BackRub'. After a year, the founders thought that a name focusing on the amount of data they were indexing would be more befitting. This led to the invention of the word Google, a mispronounced form of the word 'Googol'. Page decided to use the word as it is and even sent out emailers- 'Have fun and keep googling'. Now imagine the Backrub version of it. Keep backrubbing won't be as fun or meaningful right?
2. From Cadabra to Amazon:
The famous shopping platform, as we know today, was named Cadabra, a word derived from Abracadabra by Jeff Bezos. However, the name soon lost its relevance when a lawyer mistook it for 'cadaver' (which means corpse). Bezos then came up with the name Relentless but it didn't serve the purpose either. Consequently, Jeff Bezos explored a dictionary and settled on Amazon, the world's largest river as the name for his brand. The river was considered unique and exotic and also helped the brand stay on top of the alphabetical list.
3. From Matchbox to Tinder:
Tinder is an app that revolutionized the dating world with an estimated large number of people using the app across the world. The app was initially named Matchbox referencing link-ups between fire and love. However, the name was similar to Match.com. This made the founders rethink their app name. In an attempt to still stick to their root association of sparks and romance flames, they concluded Tinder as the final name.
4. From Blue Ribbon Sports to Nike:
Nike is one of the most remarkable brands and its famous logo a representation of victory, strength, and speed. However, would it have had the same significance, had it been Blue Ribbon Sports? These three worded brand names were chosen by track athlete Phil Knight and his coach Bill Bowerman, back in the sixties. Just when the Nike team was about to rename it to Dimension Six, an employee suggested that they keep it Nike, named after the Greek goddess of victory. The idea had appeared to him in a dream and it literally was a name of dreams.
5. From Brad's Drink to Pepsi:
The first name of the brand Pepsi was derived from its founder- Caleb Bradham's surname. While it went well with the tin representation, the name lacked the attractive element that it required. Post five years, Brad's drink was renamed Pepsi-cola or 'Pepsi' derived from dyspepsia which means indigestion. This was to send out the meaning that healthy cola was useful for digestion.
Also Visit: Easy Ways to Create Best Business Name
6. From Confinity to PayPal:
PayPal, the most prominent global payments player was named Confinity before the merger with Elon Musk's online banking company called X.com. Thiel and Levchin, a hedge fund manager and an online security specialist respectively, had collaborated to discuss the investment for Field Link, a money transfer company. They both renamed Field Link to Confinity after it faced some hurdles and launched PayPal, meaning 'pay your pal' via peer-to-peer money transfers.
7. From Foodiebay to Zomato:
Did you know that Zomato, one of India's biggest food tech unicorns, initially had a food directory named Foodiebay initially? Post two successful years, the company was renamed Zomato because the founder wanted to venture into verticals closer to food and the former name didn't justify it. He also said that Foodiebay had the word eBay in it. Zomato is the twisted version of the word tomato.
How You Too Can Change Your Brand Name?
There are many reasons for you to rename your business. Maybe your company name doesn't represent your ideas, values, or mission or maybe it's getting confused with one of the competitors. However, once you have decided to take the plunge, the bigger question is how to get started, without actually losing any customers. The answer lies in hiring UnboxFame! We'll help you name your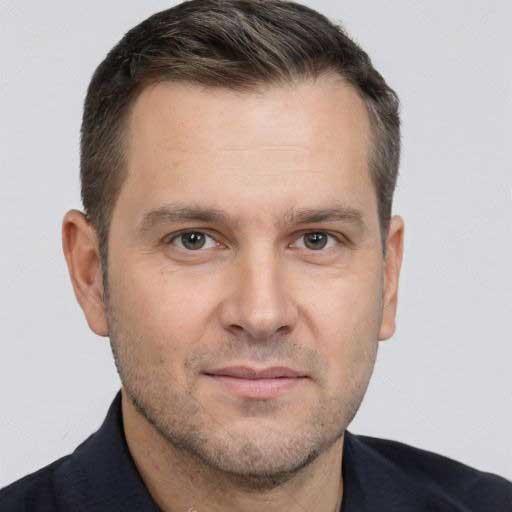 I started my career as a freelance content writer, back in 2012. With a flair for language, grammar and literature, I have constantly improved my skills. Branding has always been my favorite niche. Having written tons of content pieces, I possess enough knowledge about the branding world. My write-ups are research-backed, in-depth, and informational. A keen desire to explore things both from the consumer's and business's point of view is what sets me apart.